About This Vehicle
Mileage: 20,200
Engine: LT5  V-8
Body Style: Coupe
Transmission: Manual
Exterior Color: Red
Interior Color: Red
VIN: 1G1YZ23J8M5800572
Price: SOLD
NEAR FLAWLESS

BRIGHT RED

1991 ZR-1 WITH UNDER 20,300 MILES!!  SPECTACULAR SHOW WINNER THAT IS READY TO SHOW 'N GO!!
KING OF THE HILL!!
"The Corvette ZR-1 run in a class of precisely one"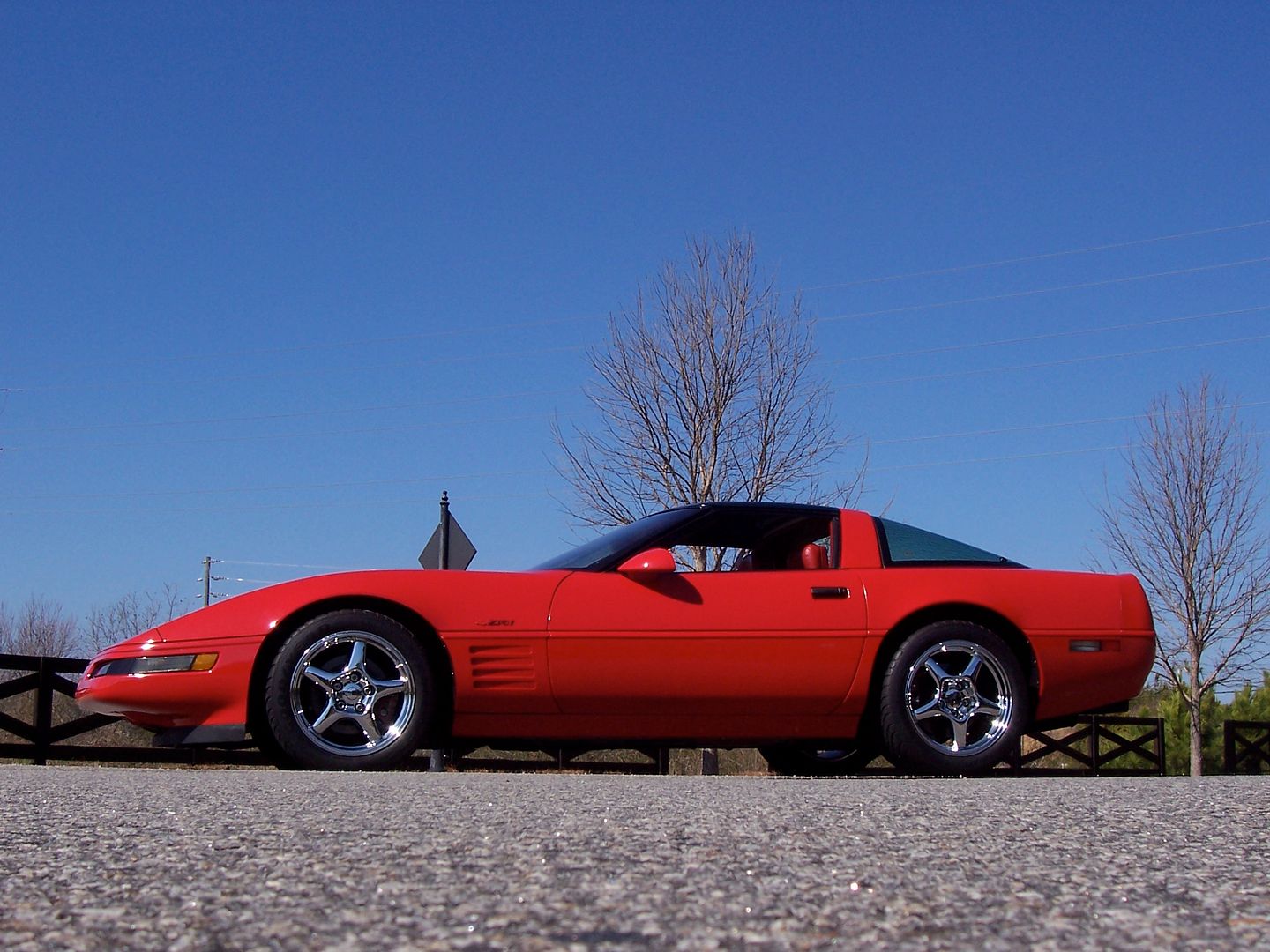 Corvette lovers, car collectors, moms and dads, anyone who is looking for a World Class American Sports Car needs to get comfortable and get ready to view one of the finest 1991 ZR-1's you will find that is priced realistically and is definitely ready to be driven, shown, or put aside in a museum as a true investment piece.  I was lucky enough to acquire this gorgeous Bright Red on Red '91 Zr-1 from a gentleman in Florida who was extremely sad to see it go. It was his baby for the past 7+ years and unfortunately personal reasons forced him to let it go.  He had a shelf full of trophies that I told him to keep as he explained that his young daughter was sad to see it go and wanted to keep them to remember the good times they had in the car together.  This was his show piece and he drove it less then 2000 miles in the 7 plus years he owned it. He maintained it meticulously and it shows. When I bought it the gentleman who was helping him sell it said it was museum quality and while I do not use this type of phrase when listing my cars on ebay I will definitely say that I was not the least bit disappointed when my enclosed transporter delivered the car.  When you stop to think that this car is now over 20 years old I think my description of "near flawless" is accurate and fitting. On top of it all, it is also all original other then the Battery, air filter and other normal maintenance items. Corvette gurus are probably saying, "What about the Wheels?". The previous owner said he loved the chrome wheels and was winning trophies with them. But, no worries the original ZR-1 rims are in perfect shape and come with the car!  Stunning, no-hit body, with all its original paint! I am going to try and provide enough pictures, a short video,  and describe the car well enough that you will get a good feel for this cars condition. Although it is tempting to give you the illustrious history and facts and figures on the Corvette ZR-1 I will only highlight a few and let you go and google the rest.  Corvette enthusiasts know exactly what this car represents, not only in Corvette History, but also the American Sports Car History. During the development of the ZR-1 the projects name was "The King of the Hill" and without a doubt it has lived up to its name!
This is truly one of the finest investment cars of its era and this particular one stands tall above most! Sit back and enjoy!!
Out of a total of 2044 1991 ZR-1's produced, only 685 were Bright Red and fewer then that had the red leather interior. The body on this bright red beauty is in amazing condition. The paint shines like new and it is all original! Upon critical inspection there are a couple of very tiny spots on the rear bumper that were professionally touched up and perhaps a few minute rock chips could be found.  So, I will not call it flawless or perfect but compared to most it is definitely worthy of being called near flawless.  This ZR-1 comes with both tops, the tinted and painted one. There is a very small scratch in the tinted top and the painted top is safely wrapped in its carry bag in the rear hatch area.  This car was never winter driven and it is easy to tell that it probably never or rarely saw the rain.  Simply put, the body is show quality and the trophies won by the previous owner are proof.  Here is a walk around photo tour to give you a better idea:
The rich red leather interior can best be described just as I did the body, near flawless!! The deeply contoured, power leather sport seats with power lumbar support embrace you during your driving expereince. The ZR-1 has a laundry list of options that were standard equipment including a Delco/Bose AM/FM/Cassette and digital compact disc player, electronic control A/C that blows ice cold, FX3 Selective Ride Control provides 3 settings ( tour, sport, and performance), plus many more. The drivers side seat bolster looks fantastic and is untouched.  It is not perfect but pretty darn close. Original owners manual in the glove box and original tool for removing the targa top in its place in the center console.  Come on in and take a look:
I think now is a good time to remind you:
UNDER 20,300 MILES ON THIS BABY!!!
THE LEGENDARY ZR-1 MOTOR, THE LT5 V8 IS AN ALL ALUMINUM 5.7 LITRE DESIGN. EACH CYLINDER HEAD HAS DUAL OVERHEAD CAMSHAFTS AND FOUR VALVES PER CYLINDER. FUEL DELIVERY IS BY ITS MICROPROCESSOR CONTROLLED MULTI-PORT INJECTION WITH TWO INJECTORS PER CYLINDER. COMPRESSION RATIO IS 11.01:1 AND

HORSEPOWER IS 375

AT 5800 RPM!!
A unique power key provides the ZR-1 owner with a choice of two engine settings. "Normal" mode limits the driver to about 210 horsepower…..who wants normal, right??? Select the "Full" setting and unleash the full potential that this phenomenal ZR-1, LT5 V8 can deliver!! Below is a quote from a 1991 Road &Track article that sums up what you can expect from the driving experience:
"Driving the LT5 for all its worth is the most fun you can have with your clothes on. It begs to be run hard between 4000 and 6500 rpm. Its sound – the snarl of 16 intake valves sucking in 11 cubic feet of air each second along with the mechanical "clattery-hiss" made by a V8 at high rpm–and its feel–acceleration that comes with a rush available from few other cars are the essence of the Corvette Mystique. Plant your foot on the floor and, if you dare, keep it there through the first five gears. At the top of fifth you'll be around the 180 mph mark.
The six-speed manual transmission is another reason ZR1 is equally a racer and a cruiser. Built for GM by Zahradfabrik Friedshafen A.G., (no wonder everyone calls 'em "ZF") in Germany, its first five gears have their ratios and ratio-spreads selected for maximum performance. The sixth gear, a long-legged 50% overdrive, is a "cruising gear" intended for best fuel economy.
At speed, this car instills a level of confidence in its driver that few others can because its handling is predictable, has no vices and always matches driver input. The steering feel and effort are just right. The grip provided by Goodyear's Gatorbacks is substantial. Suspension tuning is ideal for aggressive driving: at high speeds, just on the understeer side of neutral and, at lower speeds with the LT5's torque, slight power oversteer, but never enough to upset the car's polished demeanor. Regardless of speed, once the car's limit is reached; moderate understeer sets in. In short, we know of no other mass produced road car that drives fast so well.
Brakes, does this car have brakes! Veritable retrorockets, they are indeed stop to match the go. The fronts are massive, heavy-duty discs developed for the ZR1's near-180 mph terminal velocity and rigorously tested during the '87 season in SCCA Showroom Stock racing. The package consists of 13-inch rotor/two-piston caliper assemblies. At the rear are the standard, but certainly adequate, 12-inch/single-piston discs. In combination with the Corvette's ABS, this system made for maximum braking in abbreviated distances. The car's zero-scrub radius front suspension, introduced for 1988, had the ZR1 stopping with excellent stability regardless of road surface. Lastly, we saw little evidence of fading."
Here are a few pics of this amazing piece of engineering:
I mentioned that the original wheels come with the car and they are in perfect condition! The chrome Corvette wheels are also in perfect condition with no curb rash or chrome flaking and they are wrapped in Goodyear Eagle rubber that have tons of tread life remaining….Fat in back at a stock 315/35/17 and still plenty of meat up front with 275/40/17's.
Before I wrap things up and let you decide how much to bid on this sweet thang, let me also mention that this ZR-1 is also nicely documented with the Original Window Sticker, Build sheet, and Dealer Brochure.  Back in 1991 the Zr-1 was not its own model but was a SPecial Equipment package and for a mere $31,683 on top of the standard vehicle price you got what is now still referred to as "The King of the Hill" and rightfully so!!!
Below is a short walk around video tour:
Hopefully I have given you all the info you need to decide if this is the one for you but as always I welcome your phone calls and questions.  If you have any questions feel free to call me at 770-359-8400.  If you are a serious buyer lets talk on the phone and discuss it. Take a look at the pics and video and then picture yourself behind the wheel!!!
DRIVE THE DREAM!!