About This Vehicle
Odometer: 40,075
Engine:  V-12
Body Style: Convertible
Transmission: Automatic
Exterior Color: Platinum
Interior Color: Tan
VIN: SAJNW484XNC184244
Price:  SOLD
GORGEOUS

, ELEGANT, GRAND TOURING,

1992 JAGUAR XJS

V-12 CONVERTIBLE

WITH ONLY 40,100 MILES…BEAUTIFUL COLOR COMBINATION,  METICULOUSLY CARED FOR BY

SAME OWNER SINCE 1998

…

FUTURE COLLECTIBLE

READY TO DRIVE, SHOW AND ENJOY!!!
FANTASTIC

PLATINUM METALLIC

 WITH

BARLEY LEATHER INTERIOR

AND

NAVY BLUE CONVERTIBLE TOP

….

BEAUTIFUL FROM EVERY ANGLE

!!
Jaguar enthusiasts certainly know that the iconic XKE was a tough act to follow when production ended in 1975. As was true for both American and Foreign car manufacturers, the late 70's and 80's were challenging years to follow up their most stylish models due to a variety of safety and emissions restrictions. Launched in 1975 as the XJ-S Jaguar introduced this big cat with mixed reviews. But fast forward 16 years to 1991, Jaguar did a face lift on this grand touring convertible which was very well received and offered the refined and smoothed look Jaguar enthusiasts knew it deserved. It changed from being the XJ-S to the XJS and production stopped in 1996. These cars had a nice run of 20 years and were one of the best selling models ever. The V-12 was also improved in 1992 increasing horsepower and performance. 
I received an email from a gentleman in New York State who I had bought a classic Mustang from many years ago and he told me his good friends father had a gorgeous Jaguar XJS convertible with extremely low miles that he had decided to sell after owning it since 1998. Stories like this always intrigue me regardless of the type of car and I called the gentleman who was in his 80's. He had bought this Platinum beauty for him and his wife to enjoy at their summer home in the Berkshires of New York. It was garage kept, only driven on sunny days in the spring, summer and early fall, and then properly winter stored never seeing a northeast winter.  When he purchased the car in 1998 it had just 34,600 miles.  Today it has just a bit over 40,000 miles….do the math and you can see this car was only driven a little over 300 miles a year on average.  He had recently sold his homes and moved in to an apartment in Manhattan. He brought the Jag with him but quickly realized that it was no longer practical to keep his baby and so he decided to let it go to the next lucky owner to enjoy…maybe you!!!? This convertible is completely original and I have the clean car fax report I can provide to serious buyers showing it never had any accidents. The previous owner explained to me that it had been a fantastic car for them and that he had the oil changed every season and any other minor maintenance that was needed was always done by a local Jaguar Specialist. I have put enough miles on this beauty to feel confident that the next lucky owner is going to thoroughly enjoy the driving experience this big V-12 offers!! I am going to do my best to provide enough large images, a video of the car starting and running, and an honest description to help you decide if this big cat deserves a spot in your garage. As with all of my classics I do have this Jaguar advertised on my website and several others. Therefore, if you would like to make sure you scoop it up before the next car guy or gal does please give me a call to discuss how we can make that happen. I welcome overseas buyers and can assist you with getting a great rate on transport anywhere in the US.  Sit back and enjoy!
The paint and body on this '92 XJS convertible are fantastic from front to back. Paint is completely original and shines beautifully. All of the body panels have their original VIN stickers and this car has never had any accidents or paint work. The Platinum, code LEP, color takes on different shades depending on the light. At times, it has a slight blue hue and other times a darker gray tone. I will not say it flawless although most would do a quick walk around and think it is. I noticed some extremely small chips in the paint that have been touched up, a 2″ scratch down low along the passenger side rocker, and a really tiny ding on the passenger door that I will try to have a PDR guy remove before the car leaves, and a small spot around the antenna where the clear coat has faded.  Otherwise, I think you will find the paint and body to be as good as any 24 year old car with 40,000 miles. All of the bumpers, chrome, and trim look fantastic.  It could easily be entered in any local car show or cruise in and most likely would win a trophy in its class. But this big cat begs to be driven and enjoyed!!! Here is a walk around tour of the body which should show you just how nice it is:
I hope that the next lucky owner enjoys this grand touring convertible with the top down as often as possible but of course this Jaguar has a very high end canvas convertible power top that also looks like new. The Navy Blue color is a great accent color against the Platinum metallic. The car was always stored with the top up so the top shows almost no signs of wear. The boot cover fits beautifully when the top is down and of course the glass rear window is crystal clear.  Here are some shots with the top up:
Jaguar knows how to properly finish off the interior on their cars and the barley colored leather interior, accented in beautiful burled wood trim on this XJS is truly outstanding.  The leather seats are still very soft and plush with very little sign of wear. The drivers seat bottom has some minor sign of age to be expected but is in fantastic condition as you will see. Door panels, carpeting, etc all look fantastic. The Burl wood trim on the doors, center console, and dash looks like new. Power heated seats for driver and passenger function properly as do the power windows.  Dash pad looks like new with no cracks or issues and all of the gauges appear to be functioning correctly and are crystal clear. Factory stock radio is working well.  Factory A/C was working recently and compressor kicks in but it is not blowing as cold as I think it could and probably needs a shot of freon. There are records of the a/c being serviced and the previous owner told me it always worked for him. Power convertible top functions smoothly up and down. Original factory manual in the glove box. I think you will find the interior of this XJS to be as nice as the exterior….take a look:
Now is a great time to remind you that this Platinum metallic XJS has just 40,100 miles on it!!  Keep in mind this is a grand touring car so while you may not blow anyone away from 0-60, from 60mph to 120 you just lay in to that accelerator and let this cat put a high smile on your face as this is where the power is.  This car runs out smoothly with no issues. Jaguar also sourced out an automatic transmission from GM that offered an overdrive gear as well and this convertible shifts effortlessly.  Handling and braking is also always a strong suit for Jaguar and the independent front and rear suspension hugs the curvy roads wonderfully as it glides along at any speed. Front and rear brakes were replaced at 39,000 miles. The 16″ wheels are gorgeous and are wrapped in newer Pirelli P4 tires great for dry and wet roads. The previous owner provided a folder with many of the service receipts and the car was fully serviced at 39,000 miles. The next owner should only need to turn the key and go. Trunk looks great with original spare and original jack. Undercarriage is clean and dry as this car never saw a winter. All of the body VIN stickers are in place and factory VIN stampings and plates are in their proper locations.  I have attached a video of the car starting and running below as well.
HERE IS A SHORT VIDEO SO YOU CAN HEAR THIS BIG CAT START UP AND PURRING (
CLICK THE ARROW TO START
):
Hopefully you can see that this super low mileage, V-12 1992 Jaguar XJS is really in exceptional condition inside and out and is ready to be driven and enjoyed.  It is a joy to drive and promises to be a solid investment in the future collectible car market.
Since we do have this beautiful Jaguar advertised on our website and several others I encourage serious buyers to call me to discuss the possibility of getting this car in your garage before the next lucky car guy or gal does. I am also always open to answering any questions you may have. I welcome overseas buyers and can assist with getting great rates on enclosed transport anywhere in the country.
Serious buyers can call me at 770-359-8400.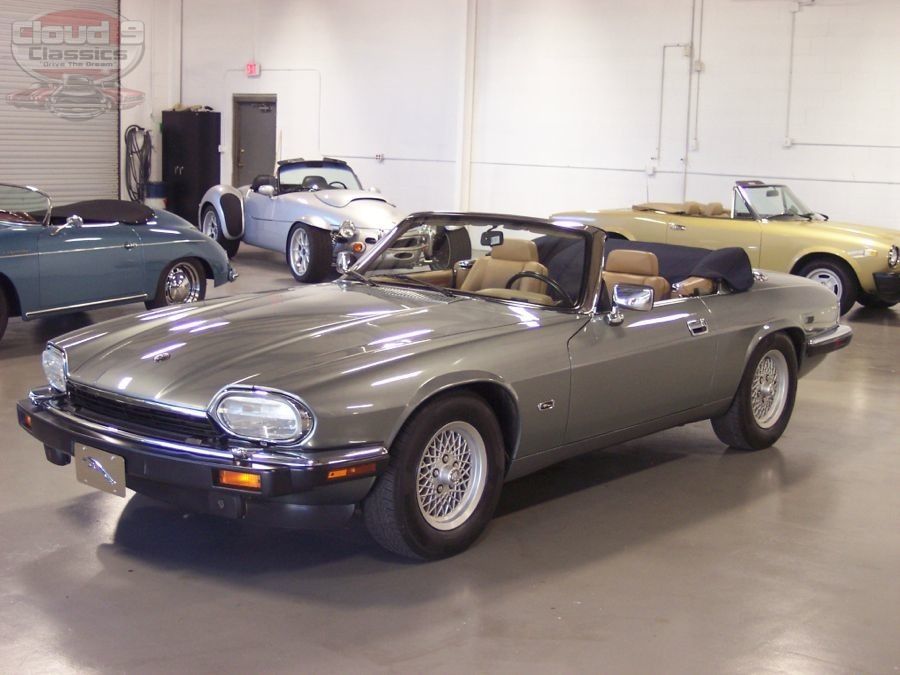 SERIOUS BUYERS CAN CALL ME AT 770-359-8400
If you have any questions feel free to call me at 
770-359-8400 
and I will do my best to answer them.  If you are a serious buyer lets talk on the phone and discuss it. In addition to being a licensed Classic Car Dealer I am also a Transport Broker (http://www.transporttime.com) and will be happy to assist the buyer with a great rate on Enclosed or Open Transport anywhere in the US at the buyers expense or to any port for overseas buyers.