About This Vehicle
Mileage: 77,000
Engine: V8
Body Style: Coupe
Transmission: Auto
Exterior Color: White
Interior Color: Black
VIN: 2G2FV22P2R2242709
Price: SOLD
1 OF 1412

1994 PONTIAC TRANS AM 25TH 

ANNIVERSARY EDITION

T-TOP CARS IN AMAZING CONDITION!!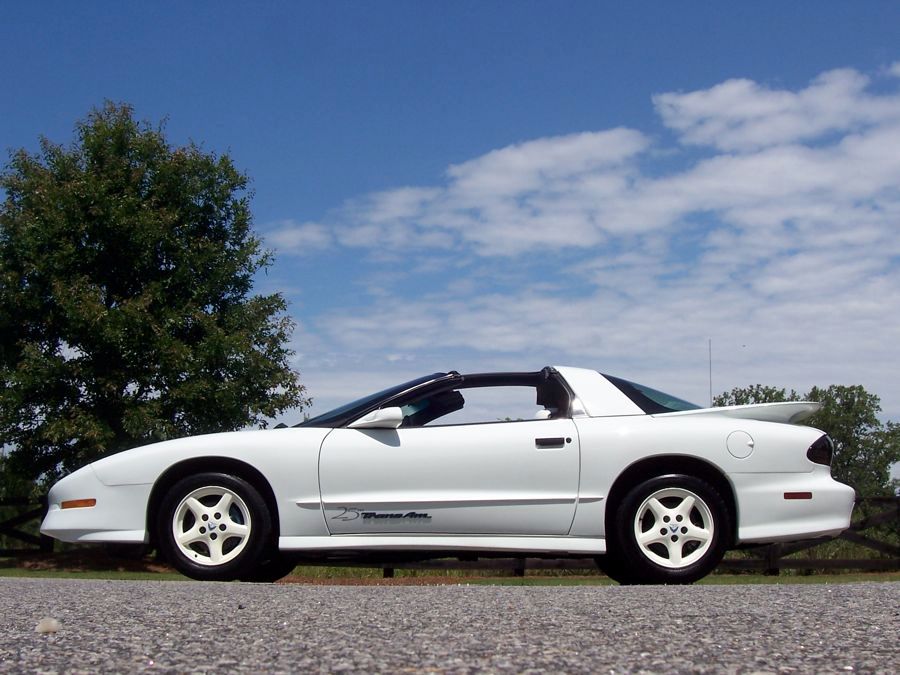 GREAT OPPORTUNITY TO OWN ONE OF THE

FUTURE COLLECTIBLE TRANS AMS

THAT YOU CAN DRIVE, ENJOY AND SHOW!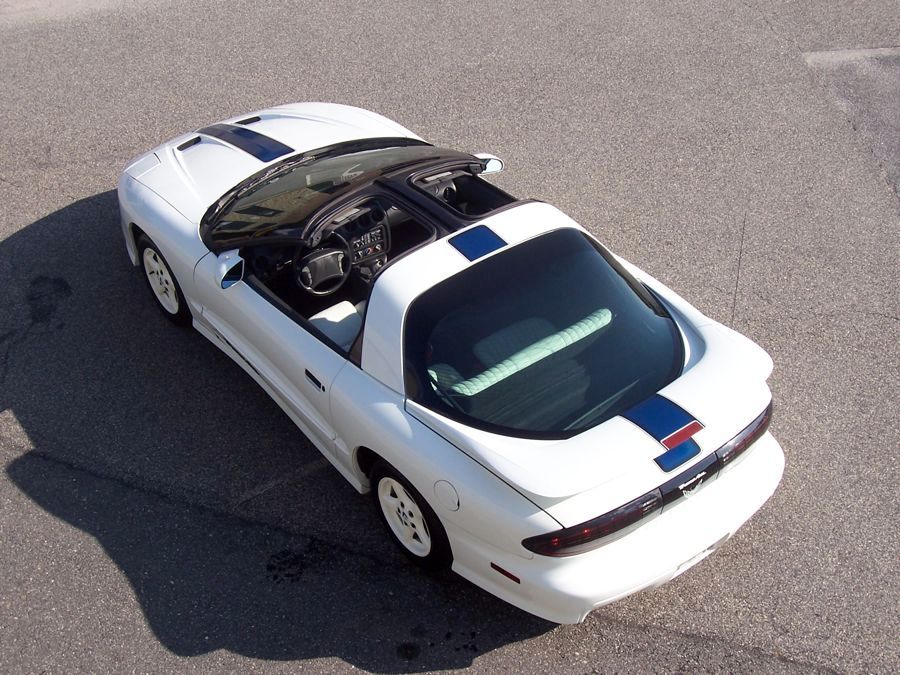 PONTIAC CELEBRATED THE 25TH BIRTHDAY OF THE TRANS AM WITH A LIMITED PRODUCTION ANNIVERSARY EDITION IN THE ORIGINAL WHITE AND BLUE TRANS AM COLOR SCHEME. OF THE TOTAL PRODUCTION RUN OF 2000 UNITS, ONLY 1412 CAME WITH T-TOPS AND EVEN FEWER WERE OFFERED IN AUTOMATIC LIKE THIS PARTICULAR ANNIVERSARY TRANS AM.  THIS FUTURE COLLECTIBLE HAS HAD JUST 2 OWNERS AND THIS CAR WAS CLEARLY PAMPERED AND EXTREMELY WELL CARED FOR.  WITH JUST SLIGHTLY OVER 77,000 MILES THIS TRANS AM DRIVES AS GOOD AS IT LOOKS AND IS A BLAST TO DRIVE!! YOU WILL BE TRULY IMPRESSED WITH NOT JUST THE FANTASTIC CONDITION INSIDE AND OUT BUT HOW GREAT THIS CAR RUNS AND HANDLES.  THIS TRANS AM TURNS PLENTY OF HEADS AND WILL FIT IN AT ANY OF YOUR LOCAL CARS SHOWS AND CRUISE-INS AND MIGHT EVEN BRING HOME A FEW TROPHIES. I WILL DO MY BEST TO PROVIDE ENOUGH PICTURES AND AN HONEST DESCRIPTION SO YOU CAN DECIDE IF THIS IS THE TRANS AM FOR YOU.
This sweet '94 Trans Am 25th Anniversary Edition is in fantastic original condition and has a clean Carfax Report showing no accidents and a AutoCheck Score of 41 that is above the range of 13-37 for similar cars. The body is in amazing condition with its original paint and decals. Body panels are near perfect. There are no door dings along the body and the only flaws I could detect were a few very tiny rock chips on the hood and front bumper that were touched up. The blue stripe decals are in great condition with just a few minor blems from age. A new hood stripe decal is included however it is not needed at this time.  The body lines are extremely aerodynamic and many consider this to be the most stylish of the Trans Am body styles. The T-tops are in great shape, seal up nicely, remove easily and store nicely in the hatch area holders. Pop-up headlights operate perfectly. Overall the body of this future collectible is in near flawless condition. Have a look:
The white leather interior on this 25th Anniversary Trans Am is a beautiful compliment to the Bright White exterior. Both the drivers and passengers front seats are in fantastic condition with almost no sign of any wear and it appears that the rear seats were never sat in. Front seats and door panels have the 25th Anniversary logo embroidered. The interior is very nicely appointed with a great sounding AM/FM/CD Player with 10 speakers that sounds great, Power everything, cruise control, and Ice Cold A/C. All of the gauges and lights seem to be functioning correctly. The original Anniversary Portfolio and owners manual will be in the glove box for the future owner. Overall the interior is in close to  showroom condition and needs nothing. Have a look around:
The 5.7 Liter LT1 Motor pushes out 275 horsepower and puts out 325 foot pounds of torque to the rear wheels. When these cars were originally tested they went 0-60 mph in 6.6 seconds. The twin dual-port tuned stainless steel exhaust system delivers a sweet sound of power. The automatic transmission shifts strong and smooth. The only performance modification the previous owner did was to install a hi-performance Throttle body and he got a Hypertech Power Programmer that allows you to make adjustments to the performance levels very easily. The original throttle body will be included as well.  The ride is sports-car firm thanks to the rigid chassis and sports suspension. This Trans Am offers great handling is a lot of fun to drive. Special edition painted 16″ Aluminum wheels were another feature to the 25th TA and this car offers great traction thanks in part to the almost brand new set of BFG G-Force TA 245/50zr/16 Radials. Wheels are in great shape with no curb rash. I was told this car was never winter driven and as a result the undercarriage looks great with no corrosion. Inside of the hatch is a holder for the T-Tops which I highly recommend you remove as often as possible for a great open air experience. We have both key fobs and 2 sets of keys for this car.  Pontiac Built Excitement and this Trans am is a great example of an exciting car to drive! Below the pics is a video so you can hear it start up and running:
HERE IS A SHORT VIDEO SO YOU CAN HEAR IT START UP AND RUNNING:  ( CLICK ON THE ARROW)
Hopefully you will agree that this is one sweet '

94 25TH ANNIVERSARY EDITION TRANS AM

!

It truly looks as good in person as it does in the pictures and it is a real head turner! This will be a great investment that you can drive, enjoy and take to the shows if you want. Pontiac Built Excitement but now that they are gone it is limited production cars like this Trans Am that will bring the excitement to the Collector Car Market for years to come.
DO NOT WAIT UNTIL THE LAST MINUTE OR YOU MAY BE DISAPPOINTED YOU MISSED OUT.
If you have any questions feel free to call me at 770-359-8400 and I will do my best to answer them.  If you are a serious buyer lets talk on the phone and discuss it. I will be happy to negotiate a deal so we can get this beautiful car in to your garage as soon as possible.  In addition to being a licensed Classic Car Dealer I am also a Transport Broker and will be happy to assist the buyer with a great rate on Enclosed or Open Transport anywhere in the US at the buyers expense or to any port for overseas buyers.