About This Vehicle
Odometer: 6,100
Engine:  6.2L Diesel
Body Style: SUV
Transmission:  Automatic
Exterior Color:  Gray
Interior Color: Black
VIN:   163656
Price:  SOLD
AWESOME

,

STREET LEGAL

, 1995 AMERICAN GENERAL, M981 HUMVEE H1 WITH

JUST 6100 MILES

…

PROFESSIONALLY MODIFIED BY PLAN B

…WAGON BACK WITH HARD DOORS…6.2L DIESEL, POWER STEERING, EASY TO DRIVE…

READY FOR ANYTHING

…

SHOW

AND

GO

!!!
SEARCHING FOR THE ULTIMATE TOY TO ADD TO YOUR COLLECTION?
LOOKING FOR A HIGH QUALITY H1 HUMVEE WITH SUPER LOW MILES THAT WILL MAKE THE ULTIMATE BEACH CRUISER, MOUNTAIN CLIMBER, GROCERY GETTER, OR ULTIMATE COMMUTER VEHICLE?
THIS '95 AMERICAN GENERAL HUMVEE H1 IS READY FOR ACTION AND WILL NOT DISAPPOINT!!!
This is the ultimate toy for any car loving guy or gal who wants something different that is truly a blast to drive. Surprisingly lightweight at only 5200 lbs, this Military conversion has an all aluminum body and is fully capable of 80 mph but can do just about anything you need on any surface. Grocery getter? Sure, why not….Beach Cruiser? Absolutely! Everyday driver? Heck yeah if you like attracting a crowd everywhere! 
This particular build was done in 2017 by a well known professional company out of Utah called Plan B. A guy from the Atlanta, GA area had it built and drove it for about a year and then traded it in recently on a Toyota truck. A guy I sold a few classic Ford Broncos to happen to be at the Toyota dealer after it was traded in and jumped at the opportunity to buy it. He just wanted to check it off his bucket list and enjoyed it for a few months and now is ready to let the next car guy or gal enjoy it. His 5 ft. 90 lb wife was laughing the day they dropped it off to me because she actually took it to the grocery store one day to pick up groceries. She said it was one of the easiest big rigs to drive she has ever had. I have seen these on the road over the years and always wondered what the appeal was. Well, after driving this one I now understand it…they are actually a real blast to drive and handle the road great. I can only imagine how awesome it would be off road.  With just under 6100 miles on it this baby is super strong and runs like new. This Humvee has a valid Georgia Title and should be abled to be titled and registered in any state but please check with your state to be sure.
I will do my best to provide you with enough large images, a video so you can see and hear it start up and running, and an honest description to help you decide if this awesome Humvee H1 should be in your garage. As with all of my classics I do have this H1 listed on my website and several others. If you decide you have to have it and want to scoop it up before the next car guy or gal does, feel free to give me a call at 770-359-8400 with any questions or to discuss how we can make that happen. I am also a transport broker and can assist the buyer with getting a great rate on transport anywhere in the US. I also welcome overseas buyers and can assist in getting this H to the port of your choice. Sit back and enjoy!!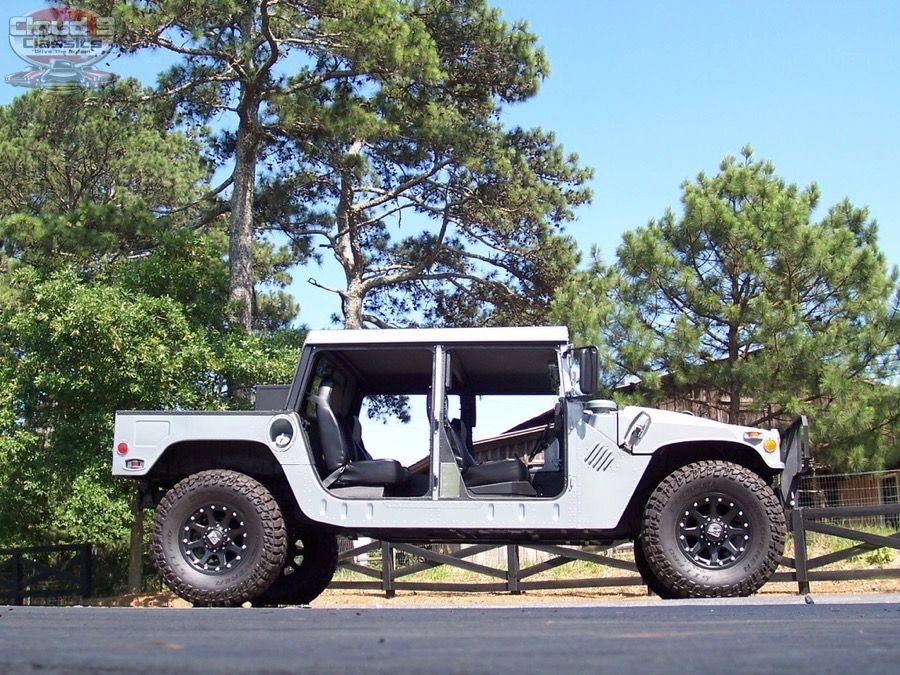 Plan B gets their vehicles straight from the Military and then proceeds to modify and customize them to make them as comfortable as the customer wants and capable of street usage as well as the long list of other capabilities they are built with. This particular one was treated to the Premium Paint job in a beautiful gray color that has a hint of blue. The paint job is actually quite nice but keep in mind it's a Humvee and not a Corvette so it's not trailer queen, show quality paint but still really nice. The body is aluminum so rust is not an issue. This one was ordered with the Hard doors which remove in an instant so that you have that open air feel. It does have the hard roof for protection. The entire body is super nice with no noticeable flaws other than some chips in the  flat black air vent on the hood. Front Grill guard folds down to open the hood when needed. This Humvee is the Wagon back design and of course the entire bed area is coated in a high quality, super durable bed liner. Heading to the golf course? Throw your clubs in the wagon and go. Headed to the beach? Load up the family and throw all the coolers and chairs in the wagon and go. Ready for action, this Humvee is also a show stopper and will draw crowds at any of the local shows and cruise-ins. Here is a walk around tour of the body:
While I think the best way to enjoy this ex-military beast is with the doors off, it is nice to know that in the matter of minutes the doors can be mounted giving you a fully enclosed street machine. I think it looks cool both ways. Here is a look with the doors on. 
The interior is super comfortable and built to haul 4 people in comfort and style. High back bucket seats are in like new condition and the entire interior is coated in heavy duty bed liner for durability. There is also sound deadening cushioning along the floors to keep the heat level and noise level down. Dash is stock Military dash and although the Speedometer only goes up to 60 mph this Humvee H1 will cruise at 70mph no problem and should hit top speed of 80+ if needed. Ignition switch only for easy starts. When cold, wait for glow plug and then flip the switch and she is running. The only gauge not currently working is the fuel gauge which is probably just a sending unit issue.  All lights and turn signals are operating correctly. Currently no stereo but one could be added fairly easily if desired or bring your mobile music along when desired. 3-point seat belts for all 4 passengers. Nice padded headliner. Interior has been nicely done and is in like new condition. Check it out:
Under the massive hood sits the 6.2L Diesel motor that has just under 6100 miles on it. GM turbo 400, 3-speed automatic transmission shifts super smooth.These Military grade Humvees have more horsepower than your typical H1 and is quite a bit lighter as well. It has all-wheel drive with an independent suspension and helical gear-reduction hubs similar to portal axles which attach towards the top rather than center of each wheel to allow the drivetrain shafts to be raised for a full 16 in (410 mm) of ground clearance. The body is mounted on a narrow steel frame with boxed rails and five cross members for rigidity. The rails act as sliders to protect the drivetrain which is nestled between and above the rails.[43] Raising the drivetrain into the cabin area and lowering the seats into the frame creates a massive chest-high transmission hump which separates passengers on each side and lowers the overall center of gravity compared to most trucks where the body and passengers are above the frame.[44] The vehicle also has disc brakes on all 4 wheels, and 4-wheel Portal axle double-wishbone suspension. The brake discs are not mounted at the wheels as on conventional automobiles, but are inboard, attached to the outside of each differential. The front and rear differentials are Torsen type, and the center differential is a regular, lockable type. Torque-biasing differentials allows forward movement as long as at least one wheel has traction. Power steering makes this Humvee super easy to handle and it will surprise you how maneuverable this big rig is. As you will see in the pics the undercarriage looks fantastic. I cannot emphasize enough just how fun and drivable this big rig is!!! Beautiful set of 18″ KMC XD series wheels with Cooper Discoverer STT Pro All Terrain tires that are near new. Be sure to watch the video to hear it start up and running as well. 
HERE IS A SHORT VIDEO SO YOU CAN HEAR THIS BABY START UP AND RUNNING (
CLICK THE ARROW TO START
):
At this point hopefully you can see that this '95 Humvee is a super high quality rig that will be an absolute blast to drive. If you have any questions or wold like to discuss how you can scoop this awesome rig up before the next car guy or gal does, feel free to call me at 770-359-8400. I welcome overseas buyers and can assist in transporting this Bronco anywhere in the US or to the port of your choice.