About This Vehicle
Odometer: 12,700
Engine: Cobra SVT 4.6
Body Style: Convertible
Transmission: Manual
Exterior Color: Red
Interior Color: Beige
VIN: 1P9PA1827WB213022
Price: SOLD
1998 PANOZ

AIV

ROADSTER…MODERN HOT ROD!!
VERY RARE

,

LOW MILEAGE

,

1 OWNER

, NEAR FLAWLESS, READY TO

SHOW

AND

GO

!!
DRIVE AND YOU SHALL FLY!!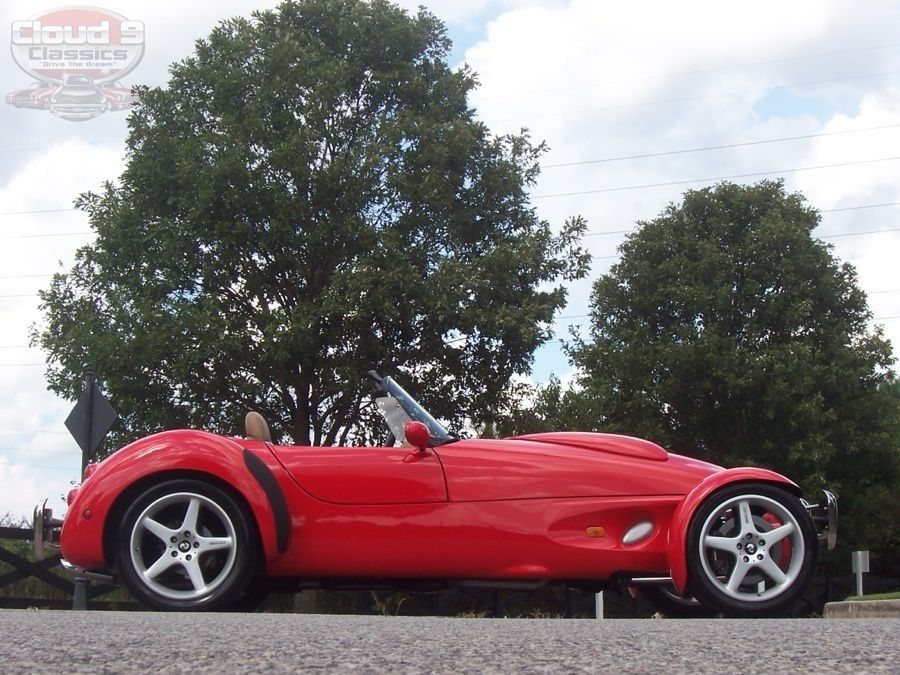 1

OF

19

 

RED

 PANOZ AIV ROADSTERS PRODUCED IN 1998 AND 1 OF 176 TOTAL EVER PRODUCED FOR THE PUBLIC BETWEEN 1997-1999.
 DON'T YOU DESERVE IT?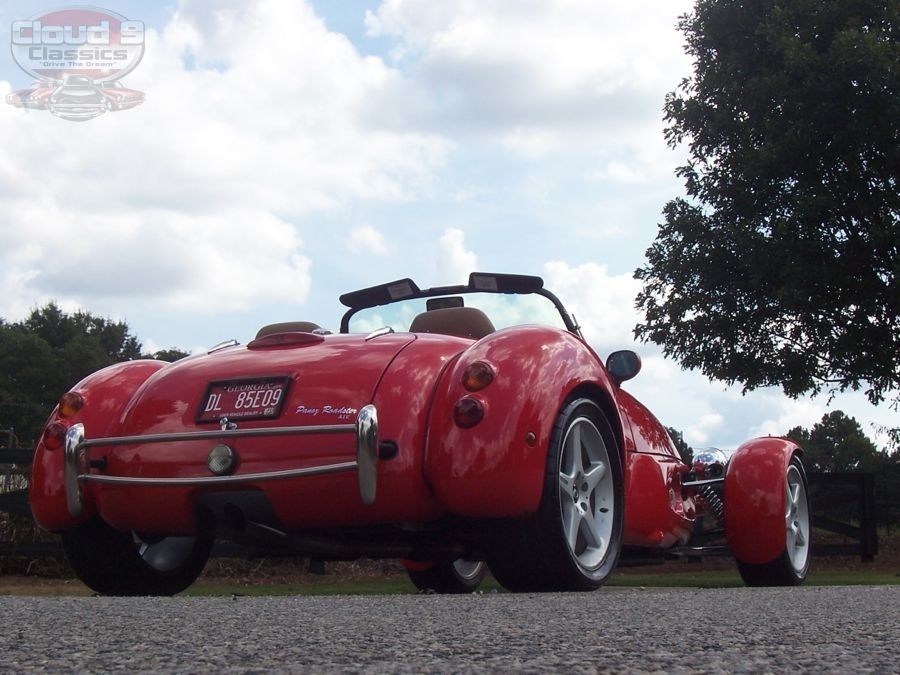 NEAR FLAWLESS, ULTRA LOW MILEAGE EXAMPLE OF WHAT HAS BEEN TERMED "

THE GREAT AMERICAN ROADSTER

"
I have had the unique pleasure of owning a total of 7 PANOZ ROADSTERS in the past 5 years.  I say unique because there were only a total of 44 Pre-AIV Roadsters built and a total of 176 AIV Roadsters sold to the public. Of those I have owned 1 Pre-AIV and 6 AIV models. This particular Red AIV that you are viewing is as near flawless as any I have owned. I think after you have a chance to view all of the pics and and hear it run in the video you will agree that

THIS IS THE ONE TO OWN

!
Each of the Panoz Roadsters I have sold have gone to individuals who are real car people, meaning they have or have had a great collection of cars including American Muscle, Hot Rods, and other exotics. The first AIV Roadster I sold went to a great car guy in VA who owned a Viper, Shelby Cobra, Prowler, Chevy SSR among others and the week after he got it he sent me an email saying that the AIV Roadster was now the family favorite.  I assure you that if you enjoy owning a unique, investment quality, performance piece of automotive history then you need to own one of these at some point in your lifetime. Lets face it, what better time of year then now to have one in your garage waiting to be driven. 
This Red beauty was acquired recently from the original owner in Florida who took meticulous care of this car and stored it in a climate controlled garage along with his other toys. He had originally promised this car to one of his sons, however an unfortunate skydiving accident left his son without the use of one of his legs and driving a manual transmission was not going to happen. He decided it was time to thin the herd a bit and the Panoz was on the market for the next lucky owner to enjoy…maybe you!! This car was extremely well cared for and was only driven on Sunny days.The original owner enjoyed the attention he always received from people who had never seen a Panoz and I can guarantee that people will approach you everywhere you go to find out what kind of car it is. These are just amazing and unique cars that a true car aficionado needs to experience!   I am far from an expert, but having driven 6 other Panoz AIV Roadsters in the last few years I can tell you that this one is as strong if not stronger then any of them and puts a smile on my face every time I drive it….truly awesome performance! Keep in mind this one has under 12,700 original miles!! I will do my best to honestly describe it and provide enough pictures and a video of it running to help you decide if this is the one for you. Enjoy!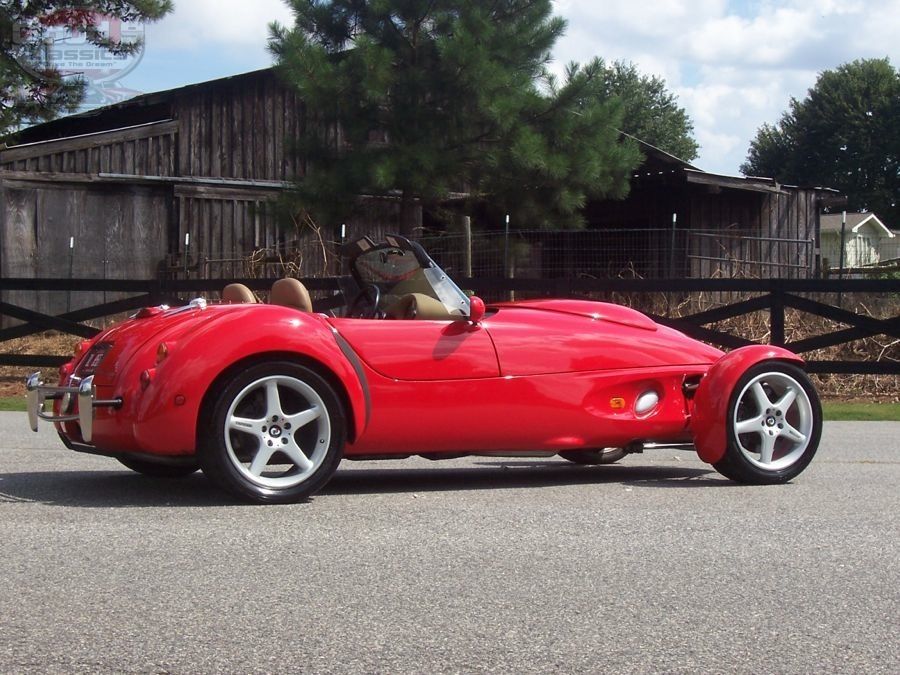 NEAR FLAWLESS best describes the body on this low mileage, 1-owner, Red AIV Roadster. I ran an Auto Check report prior to buying it and there have been no accidents and I do not see any evidence of paintwork on this amazingly low mileage exotic. Auto Check scored this car a 56 whereas as similar vehicles scored between 13-37. There is a small scratch that was touched up on the front passenger fender and a couple of extremely tiny rock chips that are unavoidable as these cars sit very low and the open fender design tends to send small rocks flying which is why Panoz designed the rear fenders with the black rock guards. This is all that I see that keeps me from saying that this car is completely perfect. The red paint glistens and was just recently treated to a high end wax and buff so all you need to do is turn the key and enjoy!  Chrome headlights, suspension,  bumper guards and trim all look great.  These cars do have tops which fold up and can be stored in the trunk. I have never driven one of these with the top on but I guess its nice to know it's there if you need it. It has zip out windows and a carrying case.  Overall the body presents itself like it came off the factory showroom floor and you need to be ready to get stares, whistles, and questions wherever you go in this truly unique modern muscle machine.  Here is a walk around photo tour of the body:
The Tan interior of this particular roadster is beautiful and looks close to new! Leather wrapped dash neatly laid out and the center console is trimmed in a beautiful burled wood.   Very nice Eclipse AM/FM/CD player for your listening enjoyment with speakers mounted between the seats, but lets face it the real music is coming out of the dual rear pipes. Tan carpeting looks great and a brand new set of Panoz AIV Roadster mats were just added. Leather wrapped Nardi steering wheel with Panoz center cap. All of the gauges and electronics are working perfectly. Ice cold A/C if needed. Polished Shifter knob with Panoz logo. The interior is simplistic and thoughtfully designed so the driver can focus on enjoying the ride. Climb in this cockpit, strap in and enjoy the ride of your life! Check out the beautiful interior:
This '98 Panoz AIV has barely been broken in and has just under 12,700 original miles!!
Each Panoz AIV Roadster had the same hand assembled Ford SVT Mustang Cobra engine and Borg-Warner T-45 five speed transmission originally introduced in the 1996 Mustang Cobra. This 305 HP all aluminum Modular 4.6 liter V-8 had the DOHC 32 valve configuration. Brakes came from the Mustang Cobra as well with 13 inch vented twin piston discs up front and 10 inch vented single piston discs in the rear. All Panoz AIVs had four wheel independent suspension with the 8.8 Ford limited slip differential. All had the large bore extruded aluminum chassis rails with an aluminum backbone frame with mild steel tubular subframes. The bodies were super plastic formed (SPF) aluminum with fiberglass fenders and hood scoop. Here is a further breakdown:
CONSTRUCTION: Hand built (350 man hours) in 1997, Aluminum Intensive Vehicle, 70% aluminum-frame, body, engine, gas tank, seats, radiator and wheels.
MOTOR: 4.6 litre Cobra SVT aluminum hand-built DOHC 32 Valve V8
POWER: 305 horsepower, 300 lb/ft. torque
TRANSMISSION: Borg Warner T45 5 Speed
DIFFERENTIAL: Ford 8.8″ limited slip differential, 3.27:1 final drive ratio

STEERING: Quick Ratio power rack and pinion
SUSPENSION: 4 Wheel Independent, adjustable coil-over shocks
WHEELS: Roush 5 spoke Aluminum 
TIRES: 245/40 ZR18 front and 295/35 ZR18 rear
BRAKES: Ford Mustang Cobra 13″ front and 10″ rear vented disc brakes
WEIGHT: 2570 lbs.
PERFORMANCE: 0-60 mph= 4.5 seconds, 1/4 mile= 13.3 seconds, braking distance 60-0= 110 ft.
This AIV Roadster performs beautifully with no issues and is ready to be driven and enjoyed. The original owner always had this car services by SVT Technicians at his local Ford dealership. That is one of the great features of these is that any SVT FORD mechanic can work on it with no problem.  Front tires were replaced a few thousand miles ago and rears were also replaced several years ago. The trunk will hold a few overnight bags when needed.  This '98 came with one of the Roush Tool kits that some of the Roadsters got and everything seems to be in place and untouched.  The original owners manual will come with the car.  Check out under the hood and then be sure to listen to the video to hear this baby running!!!
insert pic
xxxxxxxxxx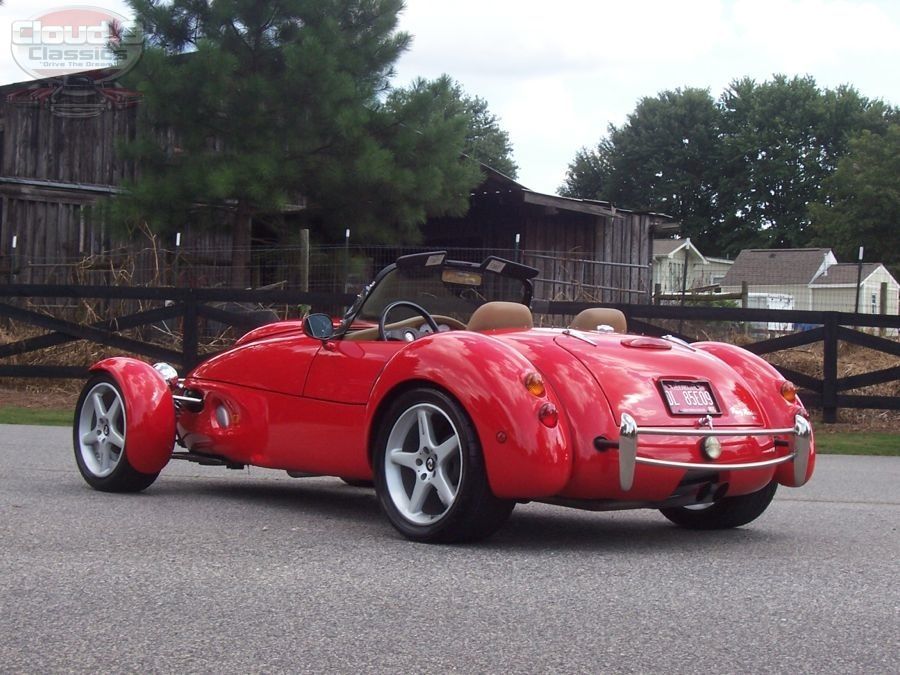 Beautiful to look at, but you have to hear it to appreciate it even more…

TURN UP YOUR VOLUME

AND CLICK ON THE ARROW BELOW TO LISTEN TO THE SWEET SOUNDS THIS AIV PUTS OUT!
Hopefully you will agree that this is one sweet and rare automobile!!

 

It truly looks as good in person as it does in the pictures and it is a real head turner! This will be a great investment that you can drive, enjoy and take to the shows if you want. 
 If you have any questions feel free to call me at 770-359-8400 and I will do my best to answer them.  If you are a serious buyer lets talk on the phone and discuss it. IF you would like to put this sweet machine in your garage before the next car guy or gal does please give me a call.  In addition to being a licensed Classic Car Dealer I am also a Transport Broker and will be happy to assist the buyer with a great rate on Enclosed or Open Transport anywhere in the US at the buyers expense or to any port for overseas buyers.