About This Vehicle
Odometer: 18,475
Engine:  3.5L V6
Body Style: Convertible
Transmission:  Automatic
Exterior Color: Gold
Interior Color: Black
VIN:  1C3EW65G72V100135
Price:  SOLD
ABSOLUTELY GORGEOUS

,

MODERN HOT ROD

,

FUTURE COLLECTIBLE

…2002 CHRYSLER PROWLER,

RARE

INCA GOLD

COLOR,

NEAR FLAWLESS

CONDITION WITH

JUST 18,475 MILES

…READY TO

SHOW

AND

GO

!!!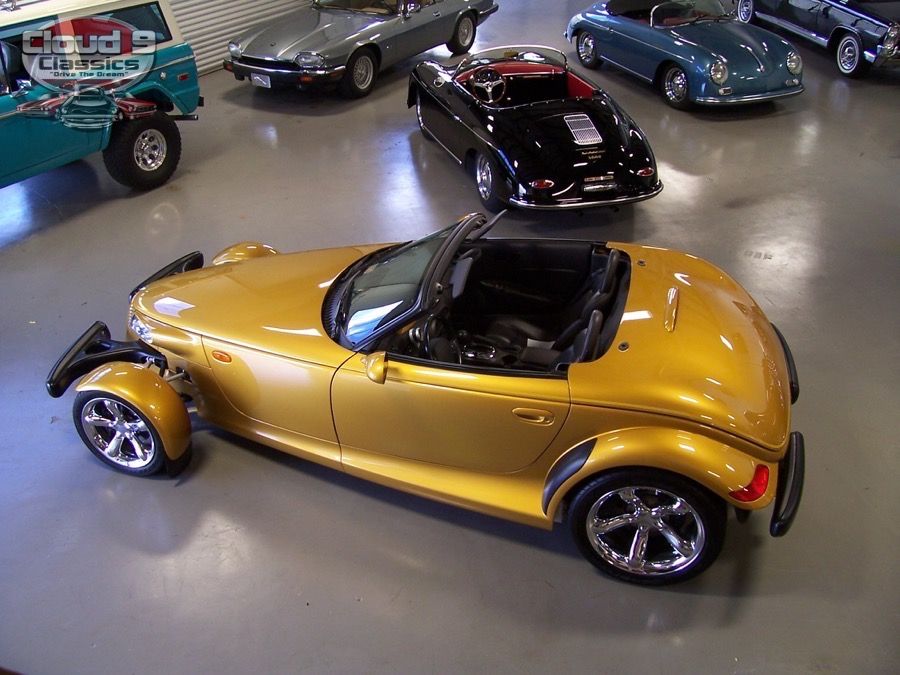 1

OF

583

PRODUCED IN THIS BEAUTIFUL COLOR AND 1 OF JUST 1346 PRODUCED FOR THE US MARKET IN THIS IN THE

FINAL 2002 PRODUCTION YEAR

….TRULY AN

INVESTMENT QUALITY

,

MODERN CLASSIC

, THAT IS A BLAST TO DRIVE AND WELCOME AT ANY CAR SHOW!
You do not have to be a Hot Rodder to appreciate the beauty and style of the Plymouth/Chrysler Prowlers. However, if you are a car guy or gal you will certainly see the appeal that these rare, Modern Hot Rods have that make them truly stand out everywhere they go.  This is, without a doubt, a true modern collectible that will make a great investment for the collector, or just an awesome car for a car aficionado that just has to have it and wants to drive and enjoy it.  This Prowler has basically had 2 owners before the gentleman I bought it from acquired it. He bought it from his friend who was an avid car collector who had owned the car since 2005. It had a little over 8000 miles on it when he got it and he only drove the car on sunny days but enjoyed the heck out of it during the 12 years he owned it putting a little over 10,000 miles on it.  He decided he was ready to let it go to the next lucky owner but he did not like the process of selling his cars so he asked a good friend if he would be interested in the car. This guy had owned several Prowlers over the years and was thinking he might keep this one so he bought it from his friend. It was right at home in his beautiful garage filled with Exotic Ferrari's and Lamborghini's but the truth was that he was short on space since the restoration of his Lamborghini Countach was about to be finished and he needed the room. So, he put it on the market and I jumped at the opportunity. I had the Prowler picked up by an enclosed transporter and delivered to my showroom here in Alpharetta, GA.  As you will see in the pictures that follow this low mileage, Inca Gold Prowler is truly in near flawless condition inside and out and the next lucky owner is going to be thrilled when it arrives!  I will do my best to provide enough large images, an honest description, and a video so you can hear it start up and running.  As with all of my classics I do have this car listed on my website and several others. Therefore, if you decide this is the one you have been waiting for and want to scoop it up before the next car guy or gal does, feel free to call me at 770-359-8400 to discuss how we can make that happen.  Sit back and enjoy!!
The body on this final year Prowler is truly in amazing condition.  Several new colors were introduced in the final production year with only 583 produced for the US market in this stunning Inca Gold Metallic color.  This color truly sparkles in the sunlight which makes it a little tough to photograph because of the way the sun danced all over the curvy body lines. If you see any white spots in the photos below they are merely from the sun as it glistens on this gorgeous metallic gold color. Of course this Prowler has never been in any accidents nor has it had any paint work. I have the clean carfax report that I can provide to serious buyers. The body is truly near flawless with the only minor flaws being a few very small scuffs under the front nose which you cannot see unless you lay down and slide your head under the front nose. I did not notice any door dings or other blemishes but to be safe lets assume there might be a few really tiny rocks chips I may have missed. Otherwise the body is truly in showroom new condition and this will be a show winner if you enjoy showing your cars. Front and rear mud flaps were installed which are really beneficial in keeping rocks from flying up on this open fender design.  An awesome gold pinstripe around the body line provides a beautiful touch to the Inca Gold paint.  As you can see this Prowler retains the original front and rear bumpers which are often removed.  There is no denying the rake and stance of this modern hot rod will turn heads and get you noticed no matter where you go.  Here is a photo tour of the body of this Inca gold beauty:
Hopefully the next lucky owner will enjoy this Prowler with the top down as much as possible but this Modern Hot Rod does look pretty slick with the top up when needed. The top material is heavy duty canvas and much like the rest of the car looks close to new. The rear glass window has a rear defroster. These tops are a breeze to put up or down when needed and store neatly in the storage compartment behind the seats. Here are a few pics of the Prowler with the top up:
Slide inside this Prowler and you are welcomed by the super comfortable leather bucket seats that also look brand new with virtually no sign of wear at all. Leather wrapped steering wheel with a retro look tachometer mounted on the steering column. Gauges are neatly laid out in the center of the dash and a great sounding stereo system with 6 disc cd changer located behind the passenger seat. The 2 front door speakers were just replaced as they commonly failed on these cars. Center console features the automatic shifter with Sport Mode allowing you to run through the gears and take the RPM's up a bit between shifts if desired. Of course this Prowler comes fully loaded with power windows, power locks, cruise control and ice cold air conditioning. Nice set of matching Prowler embroidered floor mats. Overall, the interior is like new and has the simplicity of a retro Hot Rod Roadster with the modern comforts you would expect. Super comfortable and ready for a sunny day cruise or nice long trip if desired.  Have a look inside: 
The stock power plant of the Prowler is the 3.5L High Output SOHC 24 valve aluminum V-6.  While not the fastest roadster on the road, with 253hp and 265 ft. lb of torque it still has enough power to get most peoples attention and put a smile on the drivers face from ear to ear. Although all the Prowlers were Automatic transmissions, you can put the shifter in the auto-stick mode and shift up and down through the gears for some added fun. Power rack and pinion steering and vented 4 wheel disc brakes make driving this hot rod a breeze. Independent front and rear stabilizer bars and front and rear coil over shocks make handling a dream and this car handles like it is on rails. Lets not forget the awesome stance thanks to the stock 20″ wheels in back and 17's up front. This Prowler has the upgraded chrome wheels that look like new and the tires were also replaced and have tons of tread life left. The tire pressure light is on due to one of the tire pressure monitor sensors failing. These can be purchased quite reasonably and replaced if desired.  There is quite a bit of technical info on the web if you want to know more about all of the performance and technology features these cars had to offer. Bottom line is that with just under 18,500 miles on it this Prowler will provide as much fun on the road as the next lucky owner can handle.  This Prowler comes with both sets of original keys and fobs, original manuals, and the original window sticker. I have also included a short video that follows the pics below so you can hear this Inca Gold Prowler start up and running. 
HERE IS A SHORT VIDEO SO YOU CAN HEAR THIS PROWLER START UP AND RUNNING (
CLICK THE ARROW TO START
):
Hopefully you can see that this 2002 Prowler is not only in near flawless condition, with extremely low mileage, but is truly a rare and unique investment opportunity in a modern hot rod that is sure to continue to go up in value. As with all of my classics I do have this car advertised on my website and several other sites. If you want to make sure you scoop this beauty up before someone else beats you to it feel free to call me at 770-359-8400 to discuss how we can make that happen.  In addition to being a classic car dealer I am also a transport broker (http://www.transporttime.com) and can get you great rates on enclosed transport anywhere in the country. I also welcome overseas buyers!
I am more than happy to answer any questions a serious buyer may have. If you are a serious buyer and want to scoop this beauty up before the next car guy or gal does feel free to 

give me a call at 770-359-8400

 to discuss how we can make that happen!