About This Vehicle
Odometer: 26,700
Engine: 6.0 LS2 V8
Body Style: Convertible
Transmission: 6-Speed Manual
Exterior Color: Slingshot Yellow
Interior Color: Ebony
VIN:  1GCES14H95B120252
Price: SOLD
RARE,

SLINGSHOT YELLOW,

2005 CHEVROLET

SSR

MODERN HOT ROD

!!! 1 OF 1338 PRODUCED IN THIS COLOR AND EVEN MORE

RARE

IN THE

6-SPEED

…

LOW MILEAGE

AND NEAR FLAWLESS CONDITION!!!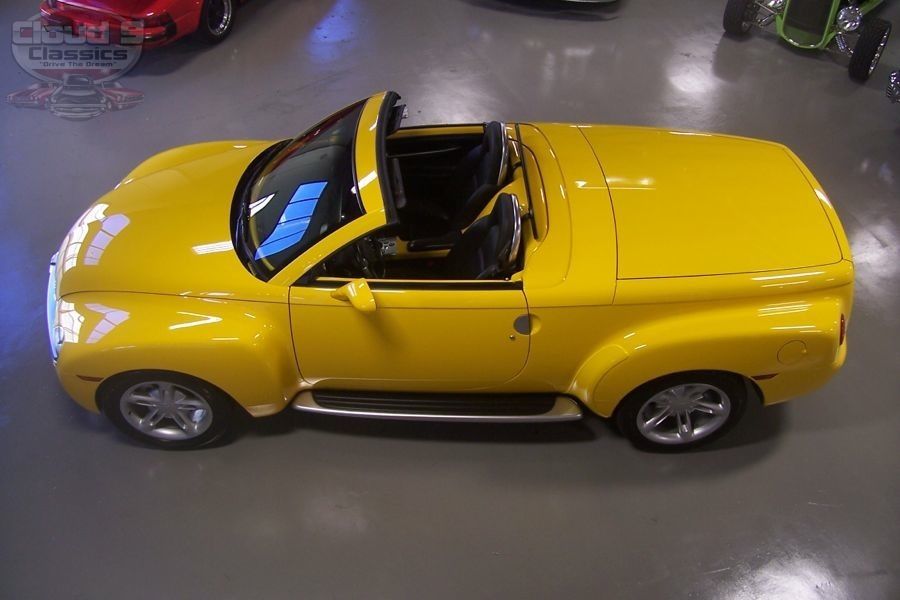 FUTURE COLLECTIBLE THAT YOU CAN DRIVE AND ENJOY!!!
COOL WITH THE TOP UP OR DOWN!!
If you are like me you are looking at this auction because you are a true Car Enthusiast and it is hard to ignore the appeal of these Chevy SSR's. I find that the typical owner of an SSR is someone who currently owns, or has previously owned several classic, muscle, or exotic cars in their lifetime and would like a modern driving Hot Rod that still catches all the eyes on the road, shows or cruise-ins and is a blast to drive.  This is the 3rd and 12th SSR we have had and I understand why the 2005 and 2006 models are so much more desirable then the 2003-2004′s. The reason I said it is both the 3rd and 12th one we have owned is because we originally bought this SSR from the original owner in 2011 and sold it to a great couple from Georgia. We received a phone call from them recently asking if we would be interested in purchasing it back and of course we said yes! The neck-snapping increase in Horsepower from the Gen IV 6.0L LS2 V-8 turns the cool looking Roadster Truck in to a serious road machine!

 I will go out on a limb and say that in my opinion the 2005 SSR is basically a Corvette on steroids. There is no doubt that the 2005 is just plain and simple much more fun to drive!! Best of all, this is sure to be one of the future Collectibles of its time and will hold its value and most likely appreciate for years to come.
This Slingshot Yellow '05 SSR is a truly eye-catching color and comes loaded with options including the 1SB Preferred Equipment Group,Aux Gauge Package, Carpeted Trunk, Trunk light, Power Memory seats, heated seats, Bose Premium sound with 6 disc in dash changer, Homelink Garage opener and more!
 We recently purchased this SSR back from a great couple who bought it from us in September, 2011. They lived in the Georgia Mountains and enjoyed the truck immensely but some recent health issues prevented them from continuing to drive it.  We were thrilled when they called us to see if we were interested in purchasing it back from them and 2 days later it was back in our showroom. It looked just as beautiful as when we sold it to them 4 years ago. We originally bought it from the original owner when it had just under 18,000 miles on it. The 2nd owners put slightly under 9,000 miles on it in the 4 years they owned it and it now has 26,700 miles on it. This SSR was always garaged and pampered. This modern hot rod is in amazing condition!! It is fully loaded up with most if not all of the factory options.I have included a number of pictures ( some from 2011 and mostly just taken ) to show you the great design and condition of this SSR and a short video follows the pictures so you can hear its throaty stock rumble. Sit back and enjoy….and most importantly picture yourself in this SSR…believe me you will love it! We do have this convertible Modern Hot Rod on our site and a few other websites so if you are interested in making sure it ends up in your garage before the next car guy or gal scoops it up feel free to call me to discuss making that happen!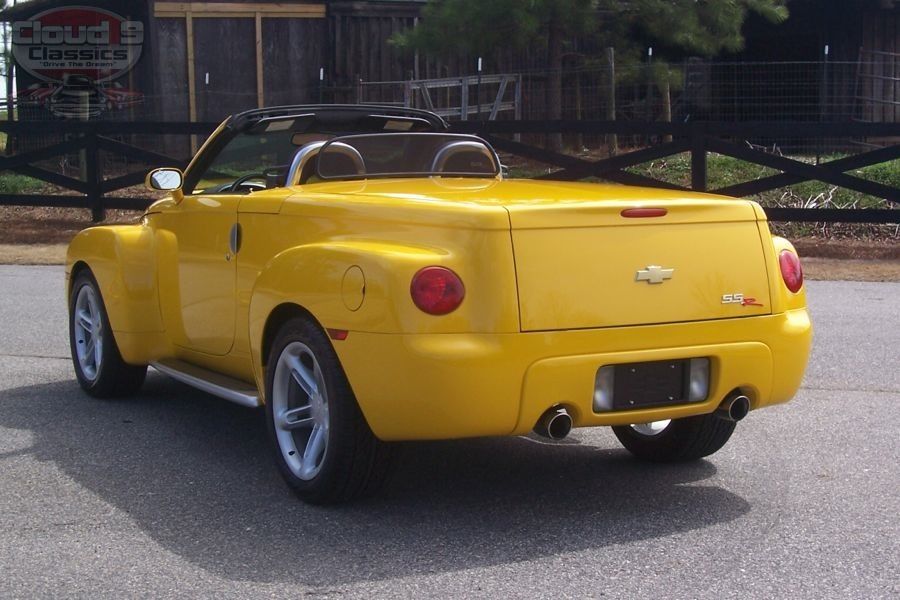 As you will see in the pictures below the body of this SSR is in near flawless condition. The Slingshot Yellow color really pops and adds to the fun factor of this convertible modern Hot Rod truck. This truck has never had any accidents or any paintwork and is in near flawless condition. It was in this same condition when we sold it to the 2nd owners 4 years ago and they took beautiful care of it. We had it professionally detailed for the next lucky owner.  I will hesitate to call it flawless since the pickiest of buyers will detect some extremely tiny rock chips that have been touched up. However,  I know the next owner will be amazed by the condition! The ultra silver painted wheels compliment the running boards painted in the same color. These trucks have a great stance with the meatier rear 20″ wheel/tire combination and 19″ wheels up front. The hard top convertible feature on these trucks is really amazing. With just the push of a button and in a matter of seconds this hard top truck morphs in to a an open air convertible roadster truck…how cool!! The top works flawlessly and this SSR also has a custom windscreen cutting down on wind in the cab when the top is down. Lets not forget that this hot rod is also a truck. But lets be truthful for a second. The truck cargo compartment is carpeted and has beautiful woodgrain strips and is more like a trunk then a truck bed that you are going to haul gravel in. This modern hot rod is designed for the sunny day cruises more then it is for the trips to Home Depot!  These SSR's are always welcome at the local car shows and cruise-ins and there is quite a loyal following of enthusiasts for these trucks. As you will see in the pics that follow the body on this Slingshot Yellow beauty is in spectacular condition! Here is a photo tour of the body:
While the SSR definitely has some of the flare of the 50′s styles Street Rod Pick up trucks, if I had to vote I would say drop the top on this SSR at every chance you get.  So lets drop the top and take a look inside. The Ebony leather interior is in fantastic condition and is extremely comfortable for driver and passenger. Almost no wear on the drivers side bolster and it looks like the passenger seat was barely sat in. Interior is nicely equipped with safety and comfort features. For safety you have side impact airbags in addition to the drivers and passengers front airbags.  Power heated seats for driver and passenger, memory power seats,  upgraded Bose Premium sound with in-dash 6 cd player, electrochromatic rearview mirror with homelink, power everything, ice cold a/c, cruise control, steering wheel radio controls,  and so much more!! The interior is very neatly laid out and there are several convenient cup holders as well. Custom SSR floor mats finish off the look. This one also has the optional gauge package in the console giving you outside temperature and other vitals. Have a look inside:
Aside from the awesome, jaw-dropping color and great looks this 2005 SSR is a power house and extremely fun to drive thanks to the 390 horsepower LS2 Corvette Motor and the Tremec 6-speed manual transmission this one is equipped with.  As I mentioned earlier I have driven a 2004 SSR and the difference in performance is truly like day and night. The 4760 lb 2005 SSR will blast to 60 mph in 5.3 seconds and through the quarter mile in 13.8 seconds, more then 2 seconds faster than the '03-'04 models The steering system in the 2005 SSR was revised for smoother operation and easier handling at low speeds. The sound of the LS2 V8 at high revs is intoxicating and the dual exhaust maintains a nice throaty sound at idle. Front and rear stabilizer bars, tuned shocks, 4 wheel anti-lock brakes, and some meaty Rubber on all four corners makes for some great times on the highway and local roads

. When we received this SSR from the 2nd owners who bought it from us 4 years ago we noted the original tires were showing wear so we just put a brand new set of tires on both front and rear. The wheels look excellent with no curb rash. This SSR runs and drives as you would expect for one with very low miles. It is an absolute pleasure at any speed and turns heads everywhere you take it. 

This truly is an amazing driving experience in a Roadster styled truck that is one of a kind! This SSR also comes with an expensive factory tow hitch and we do have all of the original manuals and both sets of keys and remotes. Take a look under the hood and be sure to listen to the video that follows to hear it start up and running:
HERE IS A SHORT VIDEO SO YOU CAN HEAR THE SWEET RUMBLE FROM THIS MODERN HOT ROD! 

(TURN UP YOUR VOLUME AND JUST CLICK ON THE ARROW)
Hopefully you will agree that this is a really sweet Slingshot Yellow, 6-speed SSR! It truly looks as good in person as it does in person and drives beautifully! Without a doubt this is a serious head turner and a great investment in a future collectible that you can drive and enjoy and even take to the shows and cruise-ins.  Locating one in this color with the 6-speed with such low mileage and in this condition is not easy so don't miss out.
As with all of our Classics we do have this truck advertised on our website and a number of other sites and reserve the right to end the auction early if it sells before the end of the auction.  We welcome serious buyers to call us to discuss a price that will put this awesome classic in your garage before the next car guy or gal scoops it up.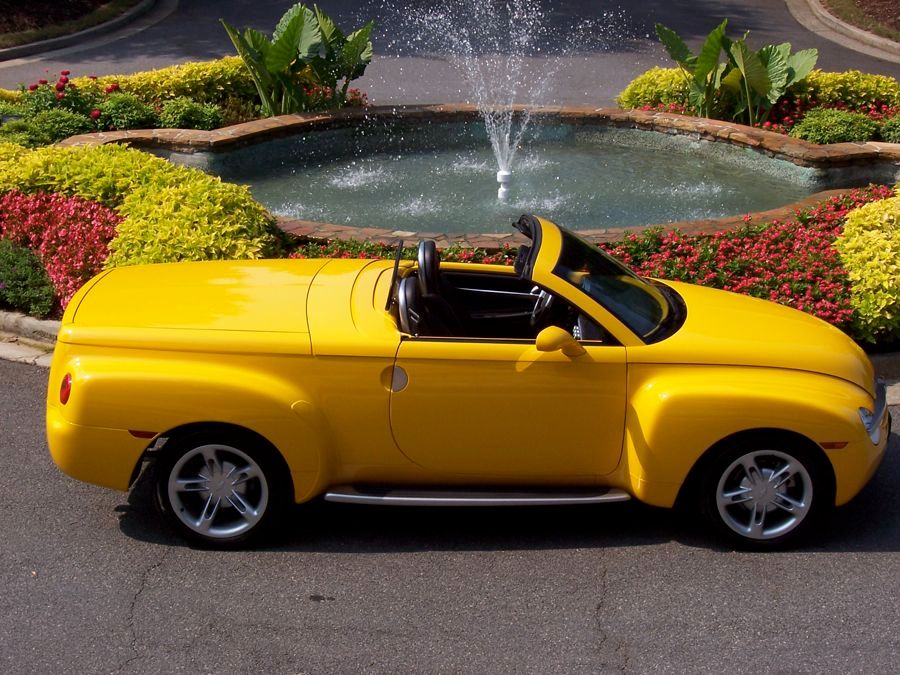 If you have any questions feel free to call me at 
770-359-8400 
and I will do my best to answer them.  If you are a serious buyer lets talk on the phone and discuss it. In addition to being a licensed Classic Car Dealer I am also a Transport Broker and will be happy to assist the buyer with a great rate on Enclosed or Open Transport anywhere in the US at the buyers expense or to any port for overseas buyers.