About This Vehicle
Mileage: 17,700
Engine: V8 – LS2
Body Style: Coupe
Transmission: Manual
Exterior Color: Slingshot Yellow
Interior Color: Black
VIN: 1GCES14H95B120252
Price: SOLD
RARE

SLINGSHOT YELLOW

MODERN STREET ROD!! 1 0F 1338 PRODUCED IN THE U.S IN THIS COLOR AND EVEN MORE RARE WITH THE 6-SPEED!! ONE OWNER

SSR

IN NEAR FLAWLESS CONDITION!!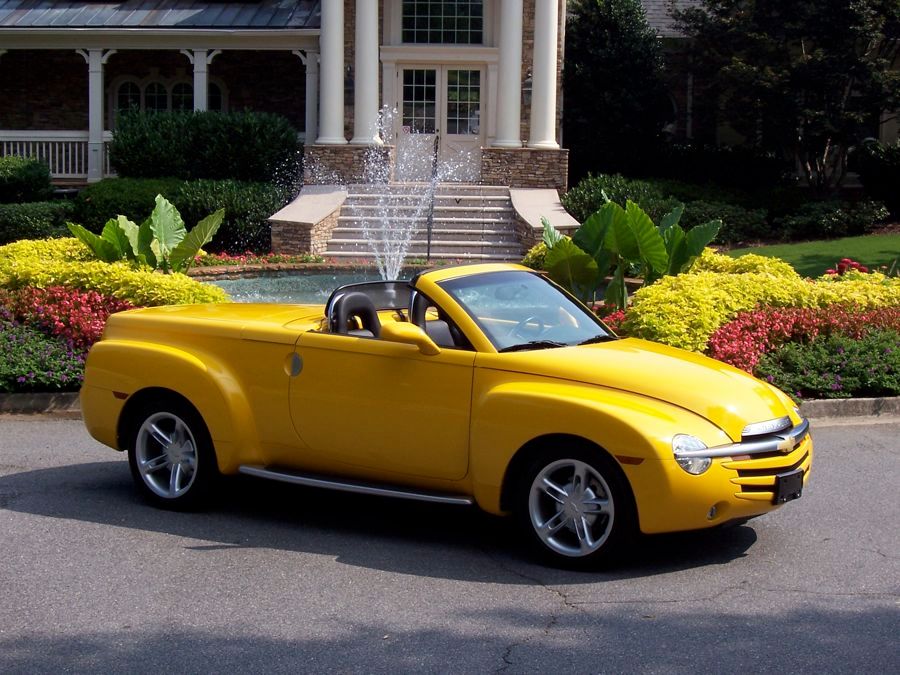 FUTURE COLLECTIBLE THAT YOU CAN DRIVE AND ENJOY NOW!!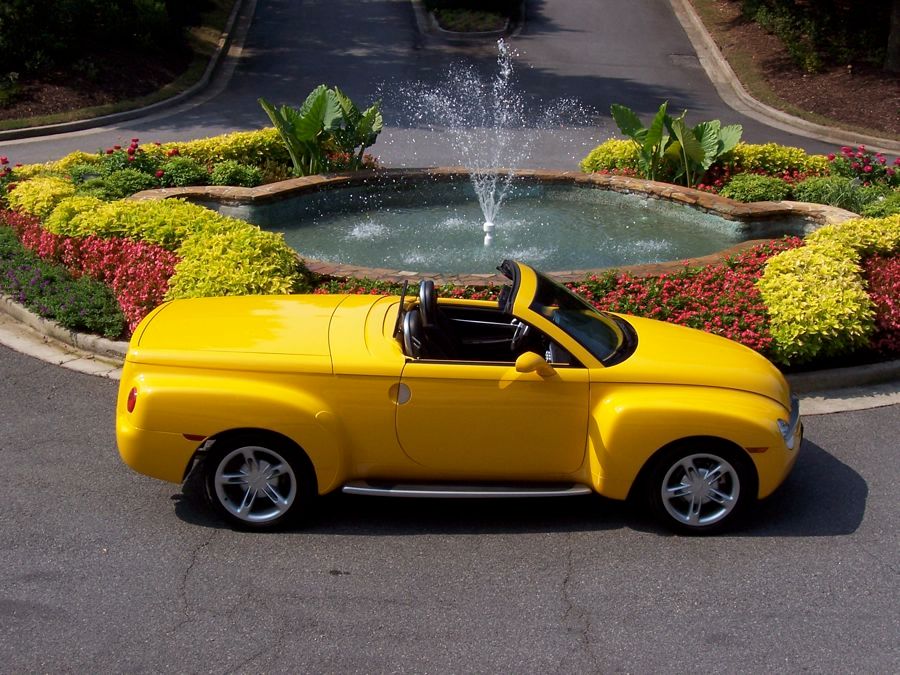 If you are like me you are looking at this auction because you are a true Car Enthusiast and it is hard to ignore the appeal of these Chevy SSR's. I find that the typical owner of an SSR is someone who has, or has previously owned several classic, muscle, or exotic cars in their lifetime and would like a modern driving Hot Rod that still catches all the eyes on the road,shows or cruise-ins and is a blast to drive.  This is the third SSR we have had and I now understand why the 2005 and 2006 models are so much more desirable then the 2003-2004′s. The neck-snapping increase in Horsepower from the Gen IV 6.0L LS2 V-8 coupled with the optional Tremec 6-speed manual gearbox turns the cool looking Roadster Truck in to a serious road machine! I will go out on a limb and say that in my opinion the 2005 SSR is basically a Corvette on steroids. I loved the 2004 SSR but there is no doubt that the 2005 is  just plain and simple much more fun to drive!! Best of all, this is sure to be one of the future Collectibles of its time and will hold its value and most likely appreciate for years to come. This particular one is a truly eye-catching Slingshot Yellow color and I acquired it recently from the Original Owner and had the pleasure of owning it since April, 2006. He drove the truck on sunny days through the Spring/summer months keeping the mileage low at just under 18,000 miles. This modern hot rod is in amazing, near flawless condition!! I have included a number of pictures to show you the great design and condition of this SSR and a short video follows the pictures so you can hear its throaty stock rumble. I am guessing that this is probably 1 of about 500 Slingshot Yellow 2005 SSR's built with the 6-speed and the options this one has. Those of you who are in to classic and collectible cars know what this will mean in 15 years or so for this SSR's value. Sit back and enjoy….and most importantly picture yourself in this SSR…believe me you will love it!
As you will see in the pictures that follow the body on this Slingshot Yellow Beauty is close to flawless. The color adds to the fun factor of this attention getting modern hot rod.This SSR has never been in any type of accident and the paint and body are basically like new. This particular one has the optional integrated running boards that really enhance the look of the truck. I have not detected any flaws in the body or paint but just to play it safe I will call it near flawless. It truly looks like it just came off the showroom floor!! Ultra Silver painted wheels compliment the running boards and other trim and tires show very little wear. Great stance from the 20″ rears and 19″ fronts.  The hardtop convertible feature on this truck is really amazing. With just the push of a button and a matter of seconds the Hardtop retracts in to a small compartment behind the seats and you are now basically driving an open air roadster….HOW COOL!! Lets not forget this SSR is also a truck. Ok, lets be truthful for a second. The truck cargo compartment has the upgraded wood trim and is more like a very oversized trunk space. It will haul plenty of cargo but this is a modern street rod and not a truck you make to Home Depot for lumber and mulch.  As you will see the truck is in the near perfect condition you would expect from one with just under 18,000 miles on it. Here is a walk around tour of the body:
While the SSR definitely has some of the flare of the 50′s styles Street Rod Pick up trucks, if I had to vote I would say drop the top on this SSR at every chance you get.  So lets drop the top and take a look inside. The Ebony leather interior is in fantastic condition and is extremely comfortable for driver and passenger. Almost no wear on the drivers side bolster and it looks like the passnger seat was barely sat in. Interior is nicely equipped with safety and comfort features. For safety you have side impact airbags in addition to the drivers and passengers front airbags.  Power heated seats for driver and passenger, memory power seats,  upgraded Bose Premium sound with in-dash 6 cd player, electrochromatic rearview mirror with homelink, power everything, ice cold a/c,  cruise control, steering wheel radio controls,  and so much more!! The interior is very neatly laid out and there are several convenient cup holders as well. Custom SSR floor mats finish off the look. This one also has the optional gauge package in the console giving you outside temperature and other vitals.  The optional Windscreen is also a great added touch. This SSR also has a factory tow hitch. I have the original owners manuals and the original cd that walks you through the vehicle and tells you how to personalize all the settings. We also will have the original window sticker that will come with the car.  Come check it out:
Aside from the awesome, jaw-dropping color and great looks this 2005 SSR is a power house and extremely fun to drive thanks to the 390 horsepower LS2 Corvette Motor and the Tremec 6-speed manual transmission this one is equipped with.  As I mentioned earlier I have driven a 2004 SSR and the difference in performance is truly like day and night. The 4760 lb 2005 SSR will blast to 60 mph in 5.3 seconds and through the quarter mile in 13.8 seconds, more then 2 seconds faster than the '03-'04 models The steering system in the 2005 SSR was revised for smoother operation and easier handling at low speeds. The sound of the LS2 V8 at high revs is intoxicating and the dual exhaust maintains a nice throaty sound at idle. Front and rear stabilizer bars, tuned shocks, 4 wheel anti-lock brakes, and some meaty Goodyear Rubber on all four corners makes for some great times on the highway and local roads. Original owner recently replaced the battery with a new 72 month battery and oil was just changed with Mobil One so nothing left for you to do but get in and have the ride of your life! This is truly an amazing driving experience in a Roadster Truck that is one of a kind!
Here is a short video so you can hear the sweet sound of this SSR: