About This Vehicle
Mileage: 27,045
Engine: 8 cyl
Body Style: Convertible
Transmission: Auto
Exterior Color: Silver
Interior Color: Beige
VIN:1G6YX36D165601782
Price: SOLD
EXTRAORDINARY AND RARE….1 OF 106 LIGHT TARNISHED SILVER WITH SHALE INTERIOR 2006 CADILLAC XLR-V'S PRODUCED…

INTERCOOLED, SUPERCHARGED 443 HORSEPOWER+

…NEAR FLAWLESS, LOADED WITH LOW MILES!!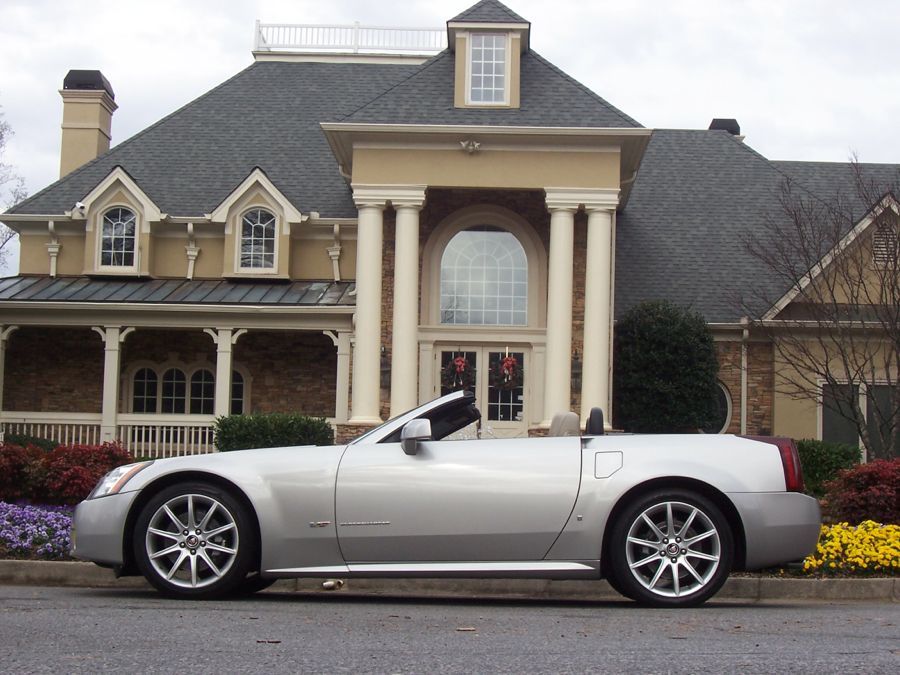 THIS IS THE ULTIMATE SUPER CHARGED, ULTRA LUXURY,
 PERFORMANCE SPORTS CAR!!! 
ORIGINAL STICKER PRICE OF $100,000…THIS IS NOT YOUR FATHERS CADILLAC!
There is no question that the 2006 Cadillac XLR-V set a new benchmark in the Ultra-luxury class of high performance roadsters in power, performance, and personal amenities. There were only a total of 1147 XLR-V's produced in 2006 and only 106 of them were made in this stunning Light Tarnished Silver with Shale interior combination. We recently acquired this amazing Cadillac in a trade on a high end Classic 1950 Chevy 3100 Pick Up.  The previous owner was a true classic car enthusiast who built Hot Rods and motorcycles and had bought this XLR-V as a toy. Well, his passion for sweet Classics drew him to our 1950 Chevy 3100 and since he did not have the room for both we worked out a deal and brought this awesome Modern Super Car to our warehouse in Alpharetta, GA We are a classic car dealer and rarely do trades, especially for newer cars, but the XLR-V is a special class all its own and we recognize that. It is without a doubt a future classic that any true car enthusiast would be thrilled to own. This particular XLR-V is truly in near flawless condition and has just 27,300 miles. I will do my best to honestly describe this cars condition and will provide quite a few large pics and a video so you can hear it running. Sit back and enjoy….you are about to view one of the finest future collectible cars on the market!  The next lucky owner will acquire this close to new super Car at a fraction of its original $100,000 sticker price.  Sit back and enjoy!
Lets first take a walk around tour of the beautiful body on this rare Light Tarnished Silver ( sometimes also called Light Platinum) XLR-V.  The bold body lines of the XLR-V show the influence the Stealth Fighter planes had on the designer. The body on this car is in exceptional condition and is truly near flawless.  The Auto Check and Car Fax reports show that this car has never been in any accidents.  The only minor flaws I noted were a few very tiny rock chips and a very small spot on the lower mesh grill where a rock may have hit it and caused a small ding. I doubt you will see any of these in the pictures that follow. This cars condition should please even the pickiest of buyers!! There are quite a few large pictures so please give them a few minutes to load. 
Drop the top every chance you get!!! With the push of a button this XLR-V converts from a Stealth-Like Coupe to a sun in your face, wind in your hair, elegant roadster. 
As you enter the cabin of this XLR-V you are treated to some of the finest leathers, wood trims and personal amenities that you could ever dream of. From the soft, supple leather seats with French stitching and matching suede inserts on the seats and door panels, to the beautiful Zingana wood trim on the shifter knob, console and door panels. The interior of this car is as stunning as the exterior and is also in near flawless condition. There is virtualy no wear on the drivers or passengers side seat bolsters and the leather and suede seating is truly luxurious and rich in look and feel.Personal amenities include driver and passenger seat warmers and coolers, voice command and phone integration, 9 speaker Bose XM audio system integrated into the Satellite Navigation option, HUD-heads up display, XM and Onstar System, Drivers seat memory, Tilt and telescopic steering, Dual Climate controls and much, much more! Come take a look:
Of course this XLR-V is beautiful, ultra-luxurious, and unique…but lets not forget the Super Charged Performance of this baby! I will list just a few of the highlights. At the heart of the XLR-V is the 4.4 Litre Northstar outfitted with a positive displacement intercooled supercharger pushing out an awesome 443 hp that places it firmly in the under 5 second club for 0-60 acceleration! The 6-speed automatic transmission used on the XLR-V is one of the most technologically advanced automatic transmissions in the industry. Performance tuned chassis systems include larger brakes, magnetic ride comfort, larger front stabilizer bar and the addition of a rear stabilizer bar, larger wheels and tires and a higher capacity fuel pump.Needless to say Cadillac implemented some amazing engineering into this high performance luxury roadster. There previous owner did make just a couple of minor performance modifications that boost horsepower and fuel efficiency. these include a G Force Performance chip, a Jet Performance Mass Air Flow Sensor and a Stage 1 Cold Air intake system with K&N filters. We have all the stock components and they can easily be switched back out. These components definitely give this XLR-V just that little added boost of fun!  This XLR-V needs absolutely nothing and drives exactly as Cadillac intended. The wheels do not have any curb rash and the tires have plenty of meat left on them. We have original owners manual, Navigation disc and both Smart key fobs. After the pics below is a short video so you can hear this beauty start up and run.
Here is a short video of this XLR-V starting up and running….Turn up the volume and hit the arrow to start the video: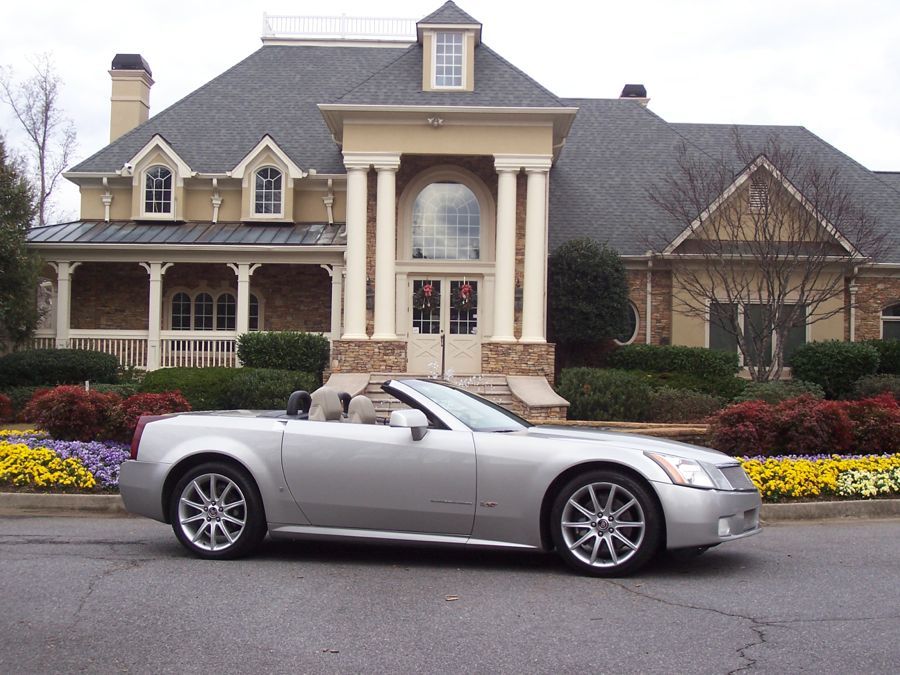 DRIVE THE DREAM!!
If you have any questions feel free to call me at 

770-359-8400 

and I will do my best to answer them.  If you are a serious buyer lets talk on the phone and discuss it. I will be happy to negotiate a deal so we can get this beautiful car in to your garage as soon as possible.  In addition to being a licensed Classic Car Dealer I am also a Transport Broker and will be happy to assist the buyer with a great rate on Enclosed or Open Transport anywhere in the US at the buyers expense or to any port for overseas buyers.