About This Vehicle
Mileage: 29,100
Engine: V8 –  4.4L SC
Body Style: Covertible
Transmission: Automatic
Exterior Color: Black Raven
Interior Color: Shale
VIN: 1G6YX36D365602996
Price: SOLD
1 OF 163 BLACK RAVEN WITH SHALE INTERIOR 2006 CADILLAC XLR-V'S PRODUCED…THIS IS THE ULTIMATE SUPER CHARGED ULTRA LUXURY PERFORMANCE SPORTS CAR!!!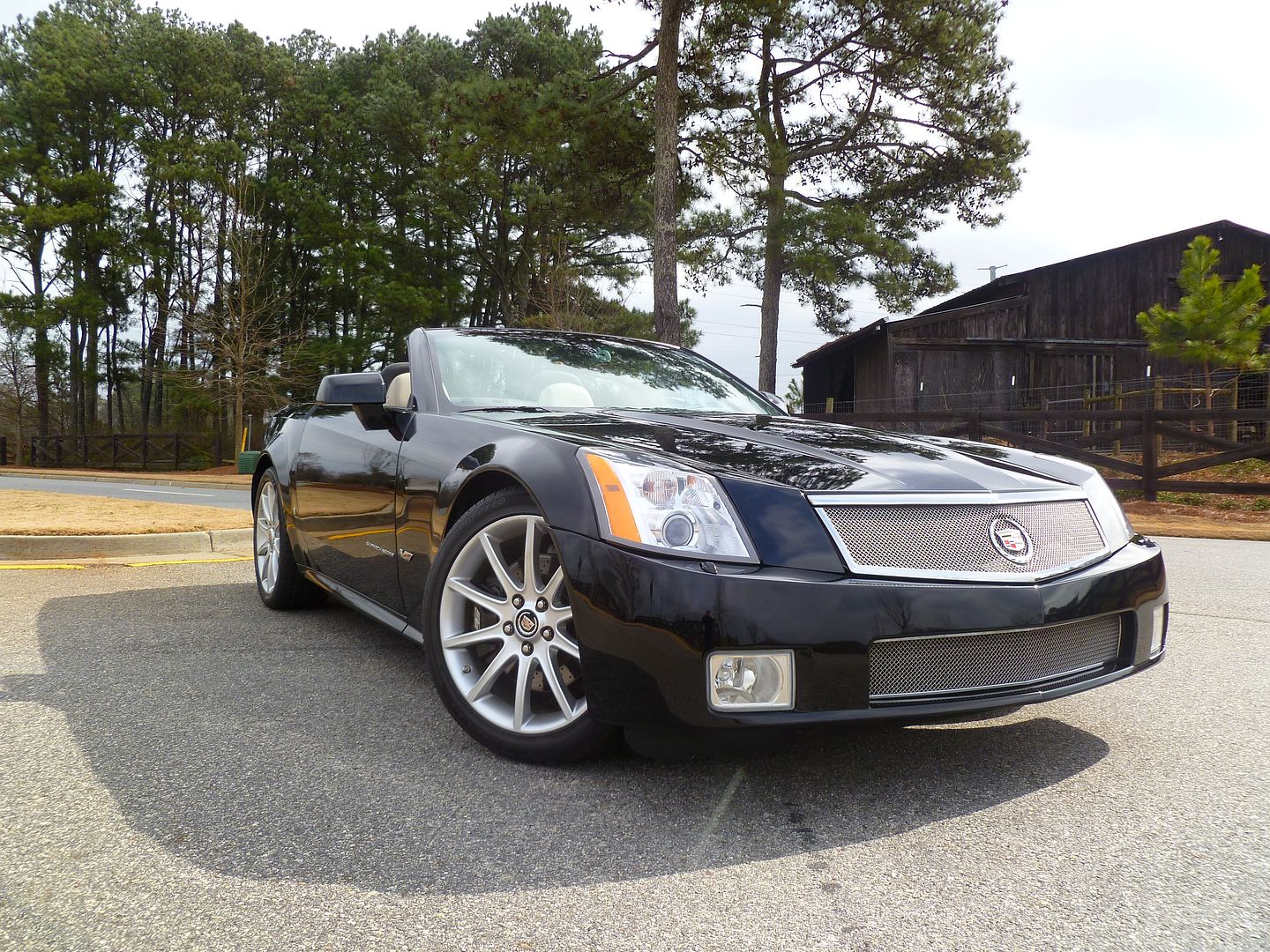 ORIGINAL STICKER PRICE OF $100,000! THIS IS NOT YOUR FATHER'S CADILLAC!!
There is no question that the 2006 Cadillac XLR-V set a new benchmark in the Ultra-luxury class of high performance roadsters in power, performance, and personal amenities. There were only a total of 1147 XLR-V's produced in 2006 and only 163 of them were made in this stunning Black Raven with Shale interior combination. We recently acquired this amazing automobile from the second owner who had an extensive car collection and bought this for his wife to enjoy. After the summer it was stored in his heated building but he was running out of space and needed a slot for his new Corvette Z06. He had only owned the car for about 9 months and the car was originally purchased in Florida. My partner has been considering keeping this one for himself as we are both truly impressed with everything this car has to offer not to mention the amazing, near flawless condition this one is in. However, we are offering it to the next lucky owner who will be able to buy this like new super car for a fraction of its original $100,000 price tag.  I will do my best to honestly describe this cars condition and will provide enough pics and a video walk around to demonstrate its beauty.  Sit back and enjoy….you are about to view one of the finest future collectible cars on the market!
First let me give you a walk around tour of this XLR-V that has under 29,200 miles. The body is in exceptional condition and there is not a door ding or scratch on it.  The meticulous buyer might detect a few very tiny rock chips but other then that the body is essentially flawless. We were told this car was never in any accidents and the auto check report should confirm this. While we were told and believe this car has all of its original paint there is a slight chance that the front bumper may have been painted as we see a very minor flaw on it.  If it was, they did a top quality job and chances are there was a minor scrape that the original owner decided to address.  This hard top roadster has amazing body lines and with the push of a button the hardtop retracts in under 30 seconds giving you the ultimate Luxury roadster.  The pics that follow should tell the story and there is also a video walk around tour at the end of the listing:
As you enter the cabin of this XLR-V you are treated to some of the finest leathers, wood trims and personal amenities that you could ever dream of.  From the soft, supple leather seats with French stitching and matching suede inserts on the seats and door panels, to the beautiful Zingana wood trim on the shifter knob, console and door panels.  The interior of this car is as stunning as the exterior and is also in near flawless condition. The only flaw I could note is some very small marks on the aluminum accent piece on the center console where there are a few minor marks. There is virtualy no wear on the drivers or passengers side seat bolsters and the leather and suede seating is truly luxurious and rich in look and feel.  Personal amenities include driver and passenger seat warmers and coolers, voice command and phone integration. 9 speaker Bose XM audio system integrated into the Satellite Navigation option, HUD-heads up display, XM and Onstar System, Drivers seat memory, Tilt and telescopic steering, Dual Climate controls and much, much more! Come take a look:
Of course this XLR-V is beautiful, ultra-luxurious, and unique…but lets not forget the Super Charged Performance of this baby! I will list just a few of the highlights and I am also including a video done by Motor Week magazine that will run you through even more of this XLR's high points.  At the heart of the XLR-V is the 4.4 Litre Northstar outfitted with a positive displacement intercooled supercharger pushing out an awesome 443 hp that places it firmly in the under 5 second club for 0-60 acceleration! The 6-speed automatic transmission used on the XLR-V is one of the most technologically advanced automatic transmissions in the industry. Performance tuned chassis systems include larger brakes, magnetic ride comfort, larger front stabilizer bar and the addition of a rear stabilizer bar, larger wheels and tires and a higher capacity fuel pump.  Needless to say Cadillac implemented some amazing engineering into this high performance luxury roadster. This particular XLR-V needs absolutely nothing and drives exactly as Cadillac intended. The wheels do not have any curb rash and the tires look close to new.
Ok, enough already!!! Simply put this is an amazing car in phenomenal condition! Below is a video walk around of this XLR-V and also a video that will give you even more great info on these Cadillac Super Cars:
Hopefully I have given you all the info you need to decide if this is the one for you but as always I welcome your phone calls and questions.  If you have any questions feel free to call Kevin at 770-557-4557.  Take a look at the pics and video and then picture yourself behind the wheel!!!
Kevin@Cloud9Classics.com

770-557-4557


DRIVE THE DREAM!!