About This Vehicle
Odometer: 4,100
Engine:  5.4L Supercharged V8
Body Style: Convertible
Transmission:  6-Speed Manual
Exterior Color: Black
Interior Color: Black
VIN:  1ZVHT89S675311939
Price:  SOLD
NEAR FLAWLESS

,

1 OWNER

, 2007 FORD SHELBY GT500 CONVERTIBLE…

MODERN MUSCLE

,

FUTURE COLLECTIBLE

,

1

OF

858

IN THIS COLOR, LOADED UP AND READY TO ENJOY!!!
What happens when a legend from Texas unites with a legend from Dearborn, Michigan? Well, in 2007, after 40 years, the Ford Mustang and racing legend Carroll Shelby got back together and introduced the 2007 Shelby GT500! This collaboration yielded an instant collector's Mustang and one that Ford's Special Vehicle Team (SVT) was able to build with 500 horsepower in its 5.4L Supercharged V8. By bringing together Shelby and Ford's SVT the company's commitment to performance became as powerful as any time in history!
In 2007 only 2694 Shelby GT500 Convertible were produced and only 858 were produced in Black…this is 1 of those 858!!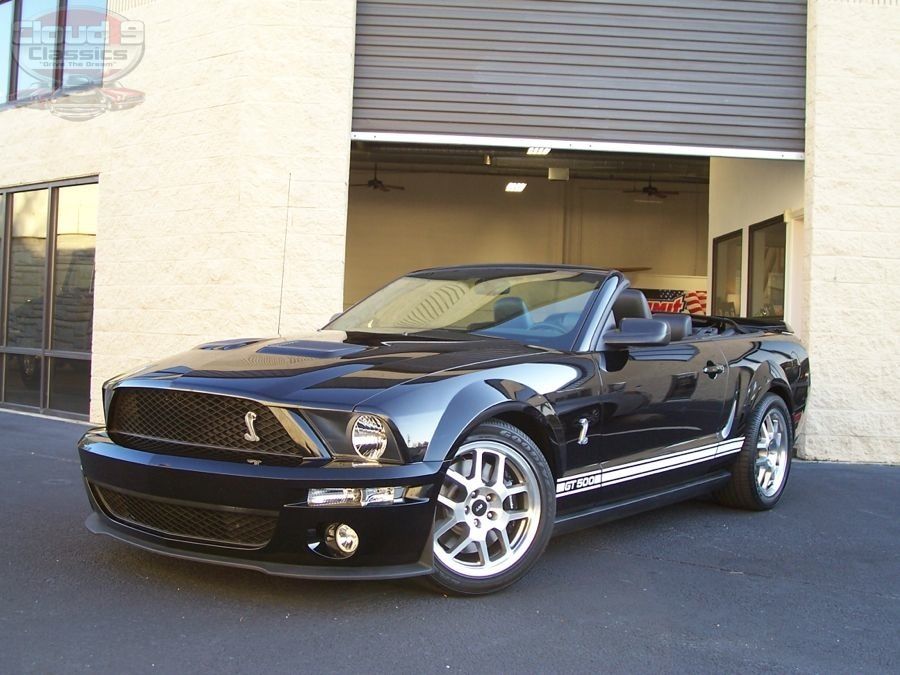 This Black beauty was sold new in June, 2007 at the largest Ford Dealership in the country, Galpin Ford in North Hills, California. The gentleman who purchased it had a nice collection of cars and treated it like the Modern Muscle Collectible that it surely will be. He recently decided to thin his collection so I purchased it and had it transported in an Enclosed Transporter from Southern California to my showroom here in Alpharetta, Georgia. I will do my best to provide you with enough large images, a video of the car running, and an honest description to help you decide if this sweet Shelby GT500 is the one you should be enjoying!! As with all of my classics I do have this car listed on my website and several others. Therefore, if you would like to scoop it up before the next car guy or gal does, feel free to call me at 770-359-8400 to discuss how we can make that happen. I am also a licensed transport broker and can get you great rates on transport anywhere in the country. I also welcome overseas buyers and can assist with transport to the port of your choice. Sit back and enjoy!!
This rare, black Shelby GT500 convertible was always garage kept in a climate controlled garage, rarely driven, never raced or tracked, and never saw the rain or any inclement weather.  When he bought it the original owner had the original wheels and tires removed and replaced with a set of black Shelby wheels. The originals were properly stored and just recently were put back on the car when he decided it was time to let another lucky owner truly enjoy this car…maybe you???  As a result of the pampered care it received this Black GT500 Convertible is absolutely near flawless. I noted a very small scratch along the passenger wheel well lip that was touched up but otherwise it is virtually like new. This car was not ordered with the hood stripes and only wears the classy GT 500 decal along the side body lines in white. Of course this car has never had any accidents or paintwork and I can provide the clean carfax for serious buyers. The convertible top presents like new and operates smoothly. All of the glass looks like new. This is truly a car for the most discerning buyers and I believe the photo tour of the body below will show you what you want to see:
Open the drivers door and you will feel like you are sliding in to a brand new car which this car really is close to being with just 4100 miles.The Shelby GT500 interior has plenty of upgraded levels of flair and function. Speedometer and Tachometer positions were swapped to provide performance drivers with a better view of shift points. Front seats have additional lateral support for optimum positioning in cornering. Black leather seat surfaces are finished with the Snake logo embossed. This interior is truly immaculate and still has that showroom new smell. Nicely loaded with just about everything other than navigation. It has the GT500 premier trim package.  it also has the upgraded Shaker 1000 audio system with sub in the trunk for amazing sound. The drivers seat barely looks like it was sat in and passenger seat and rear seats look like they may never have had passengers. Have a look:
Hopefully you can see that this gorgeous black Shelby GT500 is in amazing condition inside and out but lets face it, the real reason you are thinking of buying this Modern Muscle collectible is because of her brains and not just her beauty!!! And by brains I am referring to the 500+ Horsepower Supercharged one sitting under the hood!!! Now is a good time to remind you that this car has JUST 4100 ORIGINAL MILES!!!! That 5.4 Liter V8 under the vented hood puts down an honest 500 horsepower stock along with 480 foot pound of torque. When you let your foot mash the accelerator this GT500 will set you back in your seat and the sweet whine of the supercharger will have you grinning from ear to ear eager to unleash those 500 ponies time and time again!!! It is truly an awesome driving experience. While the car is very close to stock, the original owner did have Galpin Auto Sport add a few nice add ons just to add to the fun factor. He had them add the Ford Motorsports upgraded suspension (front and rear), a direct fit tuned stainless Bassani exhaust, and they added a larger fresh air intake, fully and it was tuned for added performance. The supercharger feeds this beast with an air/fuel mixture providing 8.5 lbs of boost. Helping to put the power to the pavement is the Tremec 6-speed transmission that has proved itself in both road and track environments. SVT engineers retuned and upgraded key chassis components helping the GT500 stop and turn with the same authority. To match the power and handling ability the GT500 was fitted with some of the biggest Brembo four piston calibers in the business.  The original wheels and tires had been removed when the car was purchased and were just recently put back on this car and only have a few hundred miles on them. I do have the original manuals, original window sticker, both sets of keys and receipts for the add ons. I have personally driven this car and it is sure to put a smile on the next lucky owners face as soon as they turn the key!!! Be sure to listen to the short video I did that follows the pics to hear this Shelby GT500 start up and running. 
Here is a short video so you can hear this Shelby GT500 start up and running ( Click the arrow to start ):
Hopefully you can see that this one owner, super low mileage, Shelby GT500 convertible is about as nice as they get. It is without a doubt a future collectible but best of all it is a jaw dropping gorgeous convertible that you can get in and drive and enjoy!! I encourage serious buyers to give me a call if you would like to discuss putting this Pony in your garage before the next car guy or gal scoops it up!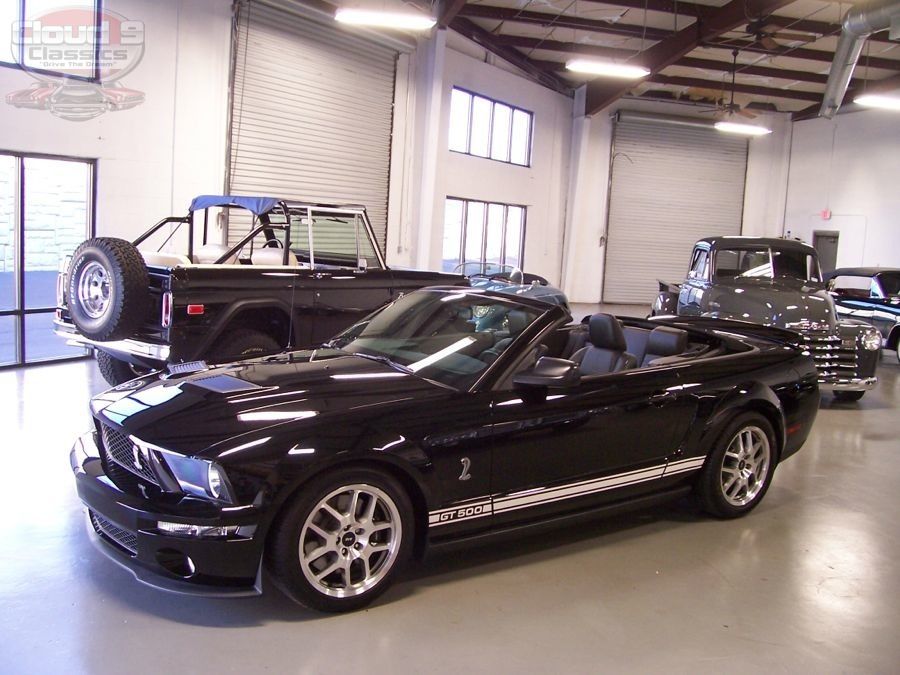 SERIOUS BUYERS CAN CALL ME AT 770-359-8400
If you have any questions feel free to call me at 
770-359-8400 
and I will do my best to answer them.  If you are a serious buyer lets talk on the phone and discuss it. In addition to being a licensed Classic Car Dealer I am also a Transport Broker (www.transporttime.com) and will be happy to assist the buyer with a great rate on Enclosed or Open Transport anywhere in the US at the buyers expense or to any port for overseas buyers.