About This Vehicle
Odometer: 16,650
Engine:  3.4L 6 Cyl 300hp+
Body Style: Coupe
Transmission: Manual
Exterior Color: Grey
Interior Color: Black
VIN:  WP0AB29877U783436
Price: SOLD
NEAR FLAWLESS

,

1 OWNER,

METEOR GREY METALLIC

, 2007 PORSCHE CAYMAN

S

,

6-SPEED

WITH

JUST 16,650 MILES

!!! NICELY LOADED WITH OPTIONS AND TRULY IN SHOWROOM CONDITION!
If you are looking for the ultimate 2007 Porsche Cayman S with ultra low mileage that has been truly pampered and meticulously maintained by the original owner then sit back and get comfortable because this is the one!!! We recently acquired this Meteor Grey Metallic beauty locally from the original owner who purchased it at Jim Ellis Porsche here in Atlanta, GA. In his 8 years of ownership he has only put a little over 16,600 miles on it. It was his "fun" car so it only saw sunny days and was meticulously maintained. This one is a 6-speed and is very nicely loaded with an assortment of options.  There really is not much more to say as this 2007 Cayman S is truly as showroom fresh as I think you will find is ready to hit the streets. We are a Classic Car dealership but occasionally we find some great low mileage specialty vehicles that we know will appeal to the true car enthusiasts.  As you will see on the original window sticker this car retailed for $64,000 new. The next lucky owner is going to buy this Cayman S at a fraction of its original value and get the most bang for the buck…maybe you?? As with all of our cars we do have this Porsche listed on our website and several others. If you do not want another car guy or gal to scoop this one up before you feel free to give me a call to discuss how we can get this amazing sports car in your garage! I will do my best to provide enough large images, a video of it starting up and running, and an honest description to help you make your decision. Sit back and enjoy!!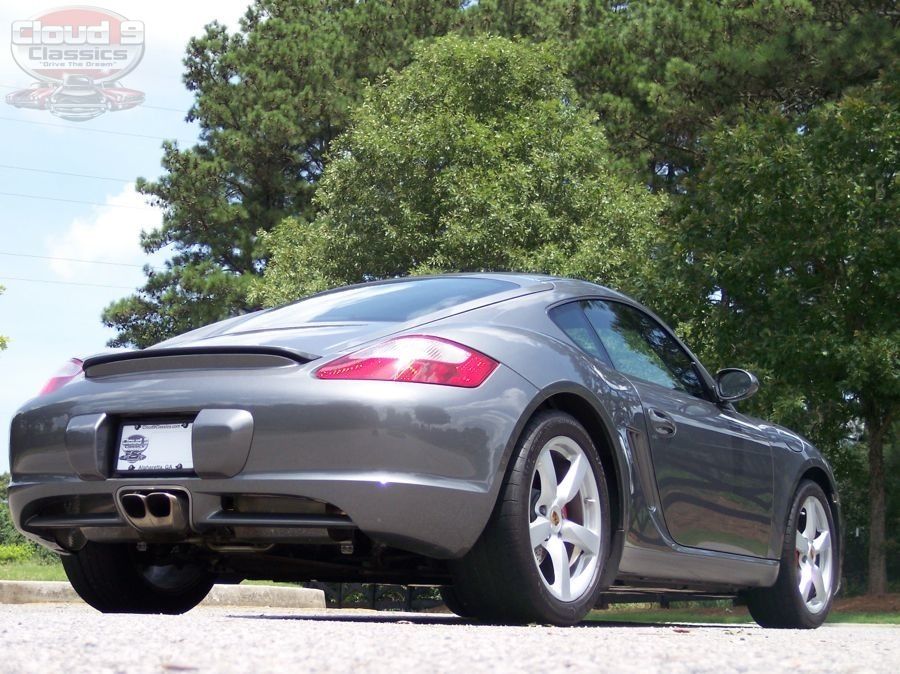 Near flawless is truly the best way to describe the condition of the body on this Cayman S. The Meteor Grey Metallic is a great color and glistens in the direct sunlight and takes on a darker color in the shade and at night. I seriously did not notice a single flaw on the body but to be safe lets assume there might be an extremely small rock chip or two that I may have missed. The paint has been protected with 3M paint protection applied to the front end, door edges and in front of the rear wheels.  This definitely helps prevent the ordinary rock chips most cars accumulate.  The Cayman S has beautiful lines and the speed activated rear spoiler improves handling at higher speeds and gives this car an even sportier look. You can also manually activate the rear spoiler. Of course this Cayman has never had any accidents or paintwork. We have the Auto Check report that scores this car a 95 when similar cars range from 84-90. I would be happy to email this to anyone who would like to see it.  Not much more to say since this car is basically showroom new looking…here is a photo walk around tour:
Complimenting the Meteor Grey Metallic exterior is a super comfortable, showroom fresh, Black leather interior. The seats look like new and show almost no wear at all.  Never smoked in and rarely occupied by a passenger this car still has that new car smell. The cockpit of the Cayman S is extremely well designed and there is surprisingly tons of leg room for the taller drivers. This Cayman was ordered with the Preferred package and the  interior is nicely appointed with options including the Bose High End sound package, heated front seats, automatic climate control and more! Take a look inside this beauty:
To many, the Cayman S was the biggest threat to dethrone the 911 of its glory and in many ways it does just that, although Porsche made sure to keep some of its performance features just shy of the 911. At a lower price point though, most car enthusiasts would never feel these differences and in fact might feel like the Cayman S has more to offer in many ways with all of the added storage and ability to carry 2 golf bags instead of just one.  The mid engine design gets rid of the ongoing Pendulum effect that the 911 always has had and this Cayman S handles corners and curves like they don't exist.
The Cayman S's 3.4-liter flat-6 is based on the Boxster S's 3.2-liter engine with a 2.0-mm increase in bore. The aluminum cylinder heads are lifted directly from the
 911 Carrera
, but use the more aggressive-profile camshafts from the Carrera S's 3.8-liter engine. Along with this setup comes Porsche's VarioCam Plus system that optimizes efficiency at idle and maximizes power output at part to full throttle. With the increase in horsepower, the crankshaft needed to be made stiffer by increasing the diameter of its main bearing journals by 3.0 mm. And a stronger aluminum crankcase is fitted that is nearly identical to the one found on the 911. The Cayman S's 3.4-liter flat-6 engine puts out 295 bhp at 6250 rpm and generates 251 lb.-ft. of torque between 4400 and 6000 rpm. 
. Zero to 60 mph is accomplished in 4.8 seconds, and the quarter-mile mark is reached in 13.3 sec. at a speed of 106.2 mph. Compared with the 911 Carrera, which weighs about 120 lb. more but has 325 bhp and 273 lb.-ft. of torque, the Cayman S is 0.3 sec. slower to 60 mph, and 0.4 sec. off the 911's quarter-mile time while traveling about 2.0 mph slower. This puts the car right smack in the middle between the Boxster S and the 911 Carrera, of course by design.
While the Cayman S is slower than the 911 Carrera in acceleration, it shines in the handling department. Imagine combining the fluidity of the Boxster S and the sharpness of the 911's turn-in, and what you have is an agile and responsive sports car. Helping to make this possible is a chassis re-inforced by the closed top and an additional crossmember behind the cockpit. With the body rated 2.5 times stiffer in torsion compared with the Boxster S, Porsche engineers were able to tune the front/rear strut-type independent suspension more firmly. A new jounce/rebound stop spring is added in the damper strut to reduce body sway while cornering. Couple the suspension to the nicely weighted and communicative rack-and-pinion steering, add the Porsche Active Suspension Management (PASM) and the Cayman S
 handles the turns with utmost stability
For maximum driving experience and fun factor this Meteor Grey rocket has the 6-speed manual transmission with dual mass flywheel.  To increase horsepower to over 300hp and give this Cayman an even nicer tone the original owner invested in a performance cat back exhaust system from AWE. We do have the original exhaust if you would like that as well.  Make sure you listen to the video to hear how great this car sounds!! He also purchased the durametric software that you can plug in to your lap top to see any error codes and reset service reminders. He maintained the car religiously but really never needed anything but oil changes every 2500 miles and new tire pressure monitoring valves. This particular Cayman S has the optional 18 x 9 alloy wheels in back with 18 x 8's up front they are in perfect condition with no curb rash. They are wrapped in close to new Michelin Pilot Sport Tires, 265 in rear and 235's up front. This Cayman was also ordered with the upgraded Bi-Xenon headlamps.  Unlike the 911's the Cayman S has surprisingly good storage space thanks to the mid engine design and extra trunk compartment.  You will be amazed at how much you can pack in the front and rear storage of these cars which make them ideal for the couple who likes to take the occasional road trip but do not want to have to take the family car.  The Cayman S clearly provides all the gusto, styling and track performance any sports car enthusiast could ask for!!
We have all of the original manuals, original window sticker and 3 keys that will go with this car.
MAKE SURE YOU LISTEN TO THE VIDEO THAT FOLLOWS THE PICS BELOW!
HERE IS A SHORT VIDEO SO YOU CAN HEAR HOW GREAT THIS CAYMAN S SOUNDS (
CLICK THE ARROW TO START
):
Hopefully you can see that this is truly one of the nicest, ultra low mileage Porsche Cayman S on the market! It truly looks as good in person as it does in person and drives beautifully! Without a doubt this is a serious head turner and a great investment in an amazing sports car that you can drive and enjoy and even take to the shows and cruise-ins.  Locating one in this color with such low mileage and in this condition is not easy so don't miss out.
SERIOUS BUYERS CAN CALL ME AT 770-359-8400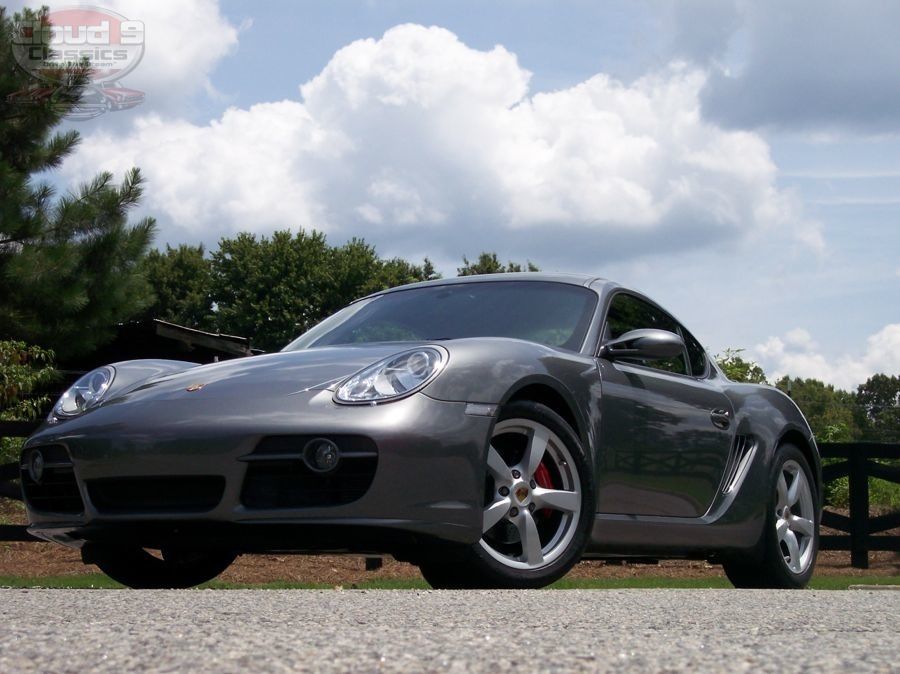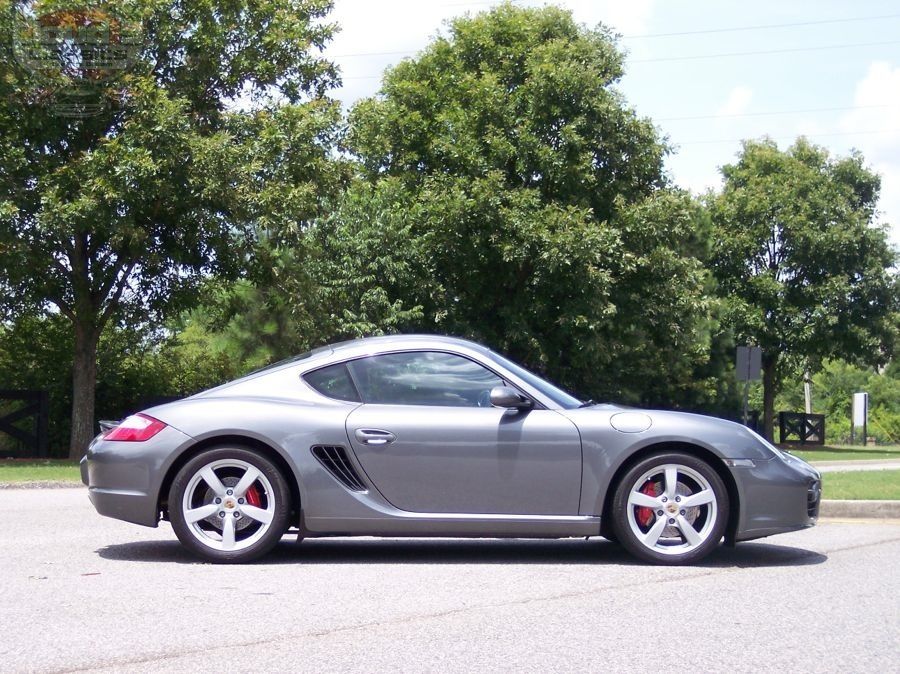 If you have any questions feel free to call me at 
770-359-8400 
and I will do my best to answer them.  If you are a serious buyer lets talk on the phone and discuss it. In addition to being a licensed Classic Car Dealer I am also a Transport Broker and will be happy to assist the buyer with a great rate on Enclosed or Open Transport anywhere in the US at the buyers expense or to any port for overseas buyers.