2010 Dodge Challenger SRT8 – SOLD
About This Vehicle

Odometer: 2,636

Engine: V8

Body Style: Coupe

Transmission: Manual

Exterior Color: Black

Interior Color: Black

VIN: 2B3CJ7DW6AH121261

Price:      SOLD
THIS IS

NOT

JUST ANOTHER LOW MILEAGE 2010 DODGE CHALLENGER SRT

8

!!!!
THIS IS A

ONE OWNER

,

ULTRA LOW MILEAGE

,

CUSTOM WIDE BODY

SRT8,

6-SPEED

, LOADED WITH FACTORY OPTIONS INCLUDING TRACK PAK, PLUS A SLEEK, LOWERED STANCE AND LOOK THAT CREATE A

TRUE

ONE-OFF

STREET MACHINE

THAT IS READY TO

SHOW

AND

GO

!!!
This 2010 SRT8 combines the bold styling of the modern day, Hemi Powered, Dodge Challlenger Muscle Machine with a jaw-dropping custom, all metal, wide body, lowered with a modern day track appeal that gives this blacked out Challenger an aggressive stance that  handles the curves heads and shoulders above a stock SRT8. 
This particular Challenger was ordered absolutely loaded with every option except a sunroof. Of course it has the 6.1 Liter SRT Hemi V8 pushing out 425 Horsepower and this one is mated to the Tremec 6-speed Manual transmission. Ordered with the Customer Preferred Package 21x and SRT Option Group II. This modern muscle, luxury machine has all the goodies inside including 13 speaker Kicker sound system with 200 watt sub woofer and 322 watt kicker amplifier,  white face instrument gauge, Navigation, heated power seats and much more.  Added performance from the Track Pak with 3:92 gears, and on and on…..this SRT8 is loaded!!!!
We recently acquired this amazing street machine from the original owner who lives just a few miles from our business.  He is a high level executive who travels internationally and has owned quite a few classic and modern super cars.  He purchased this 2010 Challenger SRT8 in October 2009 and had a vision to create a unique custom that would not only stand out visually but would also perform and sound better then most of the other SRT8 Challengers he had seen at the local shows.  About 18 months later his sexy, black beauty was complete…..mission accomplished. Of course a ton of money went into the custom metal fabrication, custom wheels, custom exhaust, etc. but his hard work allowed him to afford the modifications with an open wallet realizing he would never recoup the money spent. Any true car guy or gal who has done a custom build understands that this is not the motivation for creating the car of your dreams. He waited for those gorgeous sunny days to take his pride and joy to various cruise-ins and shows in the Atlanta area but he quickly realized that his busy schedule meant that this work of art was rarely getting driven and spent more time under the custom cover in his garage then it did on the asphalt. This is quite obvious when you see that there has been less then 2900 miles put on this car since new!!  He decided it was time to let someone else enjoy this Black Beauty…maybe you!!!?
I will do my best to provide enough large images, a video so you can hear this modern muscle machine running, and an honest description to help you decide if this 2010 Challenger SRT8 should be in your garage.  Here is a short list of the custom work that was done:
 Professional All Metal Wide Body Fabrication widening the rear 9 inches and the front 3 1/2 inches
Door handles shaved with remote door poppers
Lowered 3 inches in the rear and 1 1/2 inches up front with Hothckiss Lowering kit
Hotchkiss suspension upgrades
Custom MHT wheels 20×13 in rear and 20×9 up front 
Corsa exhaust with DMH exhaust cut outs controlled with remote or hidden switch
The body on this Challenger is near flawless. After the expensive, all metal, custom wide body fabrication was done the car was stripped of the original factory Brilliant Black Crystal Paint and a Gloss Black PPG Base/Clear Paint was professionally laid down and looks amazing. This Black does not have the blue metal flake that the original had giving it less glitter but definitely more of a stealth look.  The door handles were shaved and electronic poppers installed. Of course there is a secret switch if needed and external battery connectors were added under the rear if ever needed.  Marker lights and lenses were blacked out and windows are tinted.  The work that was done was done right and overall the body is close to perfect but to be safe lets say there might be a minor chip or flaw that I may have overlooked.The sexy, hour glass figure of this Wide Body SRT8 will certainly turn heads everywhere you go, and she will surely win trophies at the shows. But make no mistake this car was still built to be driven and enjoyed!! Here is a walk around photo tour of this baby:
The interior still smells showroom fresh and looks brand new and basically flawless. The Leather and suede seats are accented with red leather stripes and show virtually no wear. The rear seat was never used and with under 2900 miles the front seats have barely been sat on. This was a non-smoking car! Of course the seats are heated and the drivers side has an 8 way power switch for the ultimate in driver comfort. Touch screen factory navigation and upgraded kicker SRT CD/DVD/MP3 stereo with added sub in the trunk. This system is amazing for music lovers. Tilt and telescopic steering wheel, steering wheel audio controls, connect phone with voice command and many more options surround you inside this luxury muscle car. Factory 6-speed shifter was upgrade with a Hurst Pistol Grip shifter for that retro look and original shifter is also included. Windows are all tinted for extra privacy and to keep the cabin cool. There is a small flaw on the tint on the lower drivers side of the windshield where a sticker was peeled off.  Basically the interior is brand new and fully loaded…have a look: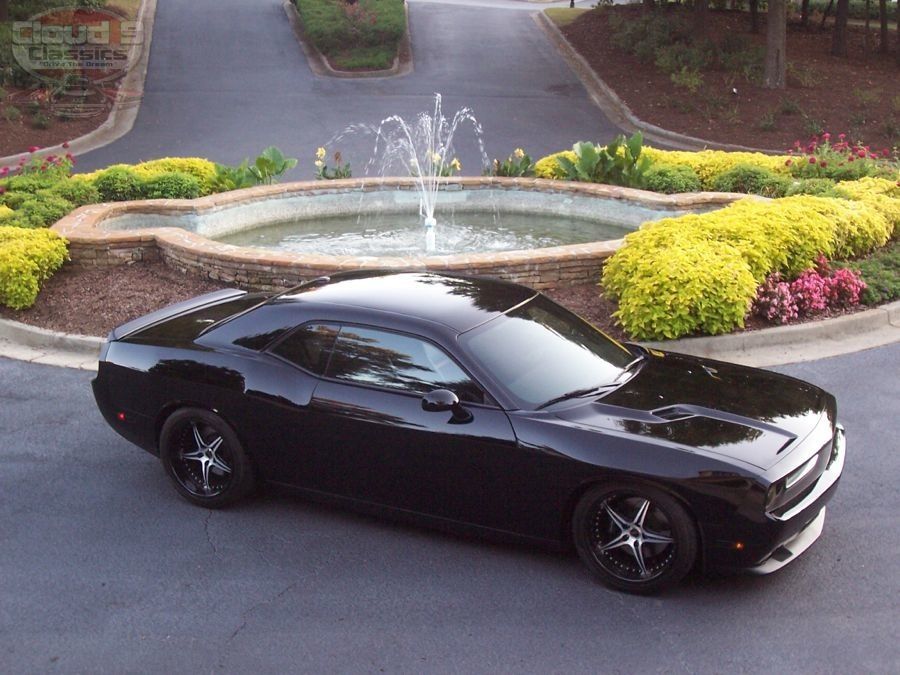 One push of the On/Off Starter button on the dash unleashes the thunderous roar from the 6.1 Liter Hemi pushing out 425 Horsepower. The original owner knew he was not going to be racing this car so he thought 425 hp was enough to enjoy so the motor is completely stock. The 6-speed is definitely the way to fly and this baby will set you back in your seat just like the 440 Challenger from the 70's did but this one adds luxury, safety and handling to the package.  This SRT8 was also ordered with the Optional Track Pak with 3:92 gears in the rear. It also has the Hill holder assist which is a pleasure when starting on a hill. A great Hurst/Billett Pistol Grip Shifter was added and controls the Tremec TR-6060 6-Speed Manual transmission. Running through the gears is crisp and you can drop this baby in to 6th gear on the highway and get an amazing 26-28mpg on the highway or run it hard stop light to stop light and have the time of your life. While there are no mods under the hood other then an added stabilizer bar, there are lots of goodies under this Challenger. The slammed stance comes thanks to a Hotchkiss lowering kit and suspension has been tightened up and upgraded with Hothckiss suspension components that were all professionally installed by the dealership at a cost of almost $4000. One of the benefits of the wide body modification is the ability to fit wider wheels and tires. The owner chose a custom made set of MHT wheels which cost close to $9000 with Nitto tires. The rears are 20 x 13 and tires are 315/35/Zr20 and fronts are 20 x 9 with 275/40/zr20 tires.  The addition of wider wheels and tires as well as the lower center of gravity offers a true rush as this SRT8 will confidently take corners like never before!!! An amazing sounding Corsa exhaust was custom fitted and to add to the fun factor and increase horsepower a bit when desired custom DMH exhaust cut outs were added behind the catalytic converters.  You can control this with a remote control or with a switch hidden inside the center console.  Make sure you listen to the video that follows to hear this baby running!!! High end custom cover is also included!
Remember this Challenger has under 2900 miles on it…so it has barely been broken in…. Check it out:
HERE IS A VIDEO SO YOU CAN HEAR THIS HEMI RUNNING AND LISTEN TO THE CUSTOM CORSA EXHAUST WITH AND WITHOUT THE CUT-OUTS OPEN…

TURN UP THE VOLUME

AND CLICK THE ARROW TO PLAY:
 If you have any questions feel free to call me at 

770-359-8400 

and I will do my best to answer them.  If you are a serious buyer lets talk on the phone and discuss it. I will be happy to negotiate a deal and so we can get this beautiful car in to your garage as soon as possible.  In addition to being a licensed Classic Car Dealer I am also a Transport Broker and will be happy to assist the buyer with a great rate on Enclosed or Open Transport anywhere in the US at the buyers expense or to any port for overseas buyers.