About This Vehicle
Mileage: 61,734
Engine: V8
Body Style: Convertible
Transmission: Auto
Exterior Color: Yellow
Interior Color: Black
VIN: 7T03C165256
Price:       SOLD
TRULY AWESOME,

ROTISSERIE RESTORED

,

WELL DOCUMENTED

, 

SPRINGTIME YELLOW

1967 FORD MUSTANG CONVERTIBLE WITH

UNDER 68,000 ORIGINAL MILES

AND SAME OWNER SINCE 1981!!
THIS PONY LOOKS AS GOOD, OR BETTER, AS IT DID ON THE SHOWROOM FLOOR IN 1967!!
IF YOU HAVE BEEN SEARCHING FOR AN INVESTMENT QUALITY, PROFESSIONALLY RESTORED, EXTREMELY ORIGINAL CLASSIC MUSTANG CONVERTIBLE THEN THIS COULD BE THE ONE!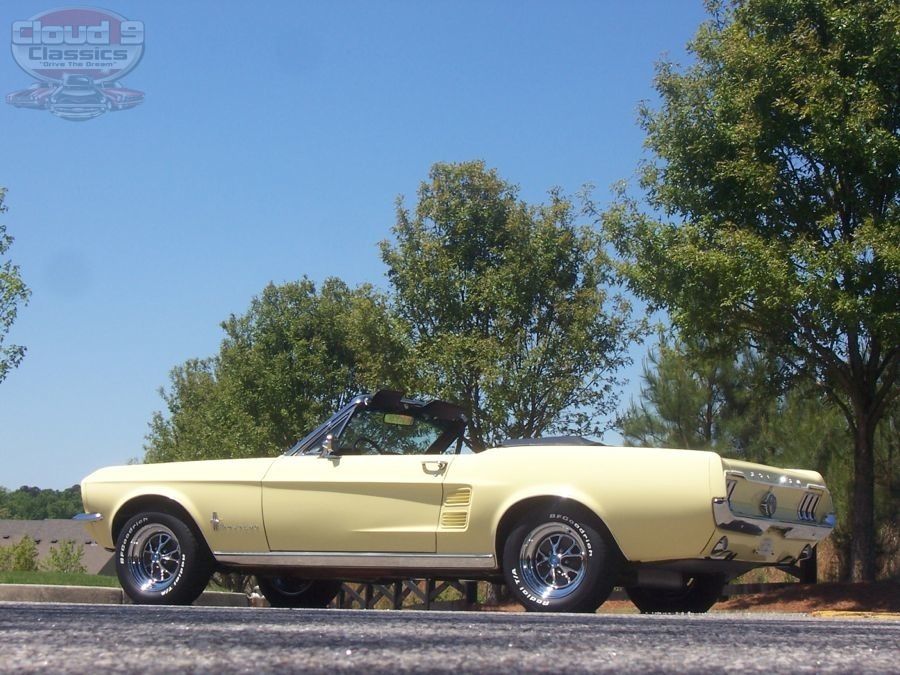 Part of the thrill of the Classic Car hobby or business is discovering a true gem of a car that has not only a great history but is also being sold by somebody who has owned it for an unusual length of time.  A few months ago someone told me about a 1967 Ford Mustang Convertible that was just listed for sale and thought it looked like one I might want to call.  My business is located in the Atlanta, GA area and I have grown accustomed to finding cars all over the country.  This particular Mustang, was located in Maine and it was still winter time.  I think everyone knows what kind of winter the Northeast part of the country had so there was no doubt this car would be tucked away in a garage that was probably blocked by several feet of snow.  In addition, I admittedly always hesitate to purchase classic cars from the Northeast region of the country because the harsh weather usually leaves them in terrible condition.  But, I dialed the phone and figured what the heck.  The phone conversation probably lasted about 30 minutes as the gentleman who listed the car for sale was 80+ years old and knew this car as well as he knew many of his relatives. After all, as he explained , he had owned it since 1981. I always love to hear this type of history!! It got even better…as he explained that he purchased the car in 1981 in Fayetteville,  North Carolina from the 3rd owner who he knew at the time. The car had 64,000 miles when he bought it 33 years ago. It now has just under 68,000 miles. Think about that…yes it's true!!! When he bought it the car was in generally great shape with just minor marks from ordinary driving. He had the otor rebuilt shortly after getting it, and had the transmission rebuilt. It ran great he said. He also had a complete paint job done in the original Springtime yellow color.  He had the body stripped to the metal and recalled that the body frame were in like new condition with no indication of any rust or collision. In 1986 , the car was put in a temperature controlled auto storage unit. He moved to Florida in 1995 and brought the car with him where it was used as a Sunday driver and always garaged.  In 1998 the car was transported to Bangor, Maine where it resided until just a few months ago when i purchased it and brought it to sunny Alpharetta, Georgia. 
After he moved to Maine he decided to have an even higher level restoration done and chose Emery Pratt of Central Maine Mustang. Mr. Pratt's reputation was gleaming as he had received nationwide acclaim in the Mustang Circle with some of his restorations winning national awards. This was not going to be some quick, make it pretty restoration. This was a full blown, rotisserie restoration by a guy who took pride in restoring Mustangs to the way they were when they were born. Each step of the process was documented and photographed as you will see in the pics that follow.  When it was ready for paint, Mike Braley of Mike's body shop was the man who Emery had perform the near flawless paint work. Most interior parts were so nice they were re-used. All Exterior parts are original other then the chrome trim added around the trunk. A new black convertible top, carpet and seat covers and door panels were purchased and installed.The only non-origins item inside was the updated stereo cassette player.  The Mustang never saw a Maine Winter and has stayed in a climate controlled garage at all times. It continued to be serviced and maintained by Mr. Pratt over the years and only accumulated an additional 4000 miles in the 33 years of ownership.  In January of 2013 the gentleman who owned it noticed a few minor chips and scratches and decide to have Mike Braley repaint the car one last time to make it as perfect as he remembered.  Well,  a year later and he realized that he just was not going to have any time to enjoy his beloved Springtime Yellow '67 so he and his wife decided to pass it along.  WHAT A FIND!!!  It was a pure pleasure to get to know the previous owner and his wife over the phone and we waited about a month until the snow cleared a bit to have it brought to Georgia in an enclosed trailer of course. When it rolled off the trailer it was a sight to be seen.  This is what I love about the Classic Car business!!!! Even better I now have the opportunity to locate a new home for this sweet little Pony Convertible….maybe that home will be yours!!!!!
I will do my best to provide enough large images, a video of it running and an honest description to help you decide if this Mustang is the one for you. Sit back and enjoy and think about the amazing history that comes along with this Classic Mustang Convertible!
The body on this Springtime Yellow beauty is simply fantastic.  Body panels  are super straight!! Alignment and fit is top notch and probably better then factory.  I honestly do not recall seeing any flaws to note but lets just say that maybe there is a rock chip or two somewhere that I might have missed. We did decide to add the chrome trim around the trunk because we think it dresses these cars up nicely.  Otherwise it is just as we received it. Oh wait, that's not completely true.  We decided to trade out the original wheels and hub caps for a set of brand new 15″ Styled steel wheels and BFG Radial TA tires that are brand spanking new. Again in our opinion this just makes the car even sportier. We do have the original wheels/hubcaps and white wall tires that could be negotiated if desired. All of the chrome trim, emblems, etc. look outstanding.  I have said enough…let the pictures do the rest of the talking. Here is a walk around photo tour of the body: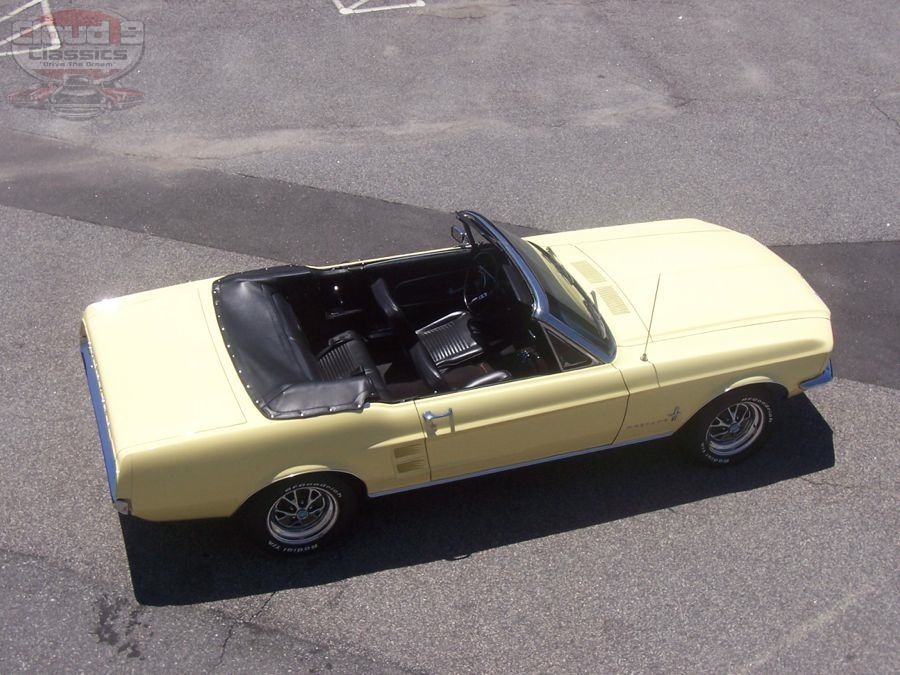 The Spring season is upon us and hopefully you will drop the top every chance you get. This Springtime Yellow beauty does have a black power top that looks close to new and operates perfectly.  Original boot cover for when the top is down is included. The black contrast looks outstanding and this Pony looks just as good with its top up. Here is a look:
Complimenting the beautiful Yellow exterior is an equally nice Black standard interior. Again, basically looks like it did when it came off the showroom floor. The only aftermarket addition to think of is the upgraded stereo cassette that was added many years ago. Door panels, seats, dash pad, gauge cluster etc. all look fantastic and ready to show. The glass is all in fantastic condition and windows roll up and down nicely and seal up to the convertible top nice and tight. Weatherstripping was all replaced in the restoration and is supple. Gauges and lights all appear to be working correctly although the temp gauge is reading warmer then the actual water temp as we have tested the water temp and it runs nice and cool.  She is really a beauty inside…take a look:
Of course as you would probably expect by now this '67 looks as good under the hood as everywhere else. Nicely detailed and original everywhere you look. The C-code 289 V8 is original and was completely rebuilt and has less then 4000 miles on it since the rebuild.  She fires right up and literally drives as well, if not better then it did when it was brand new.  The C-4 Automatic transmission shifts perfectly and loves to be driven at any speed. Manual steering and manual drum brakes but do not let that deter you. This Mustang is a breeze to drive and stops as well as a manual disc brake car. It is set up right and all of the components are close to new. Suspension was relaxed where needed and this Pony handles the road beautifully with no creaks or squeaks.  Brand new BFG rubber on a great new set of Styled Steel wheels. Great tone from the dual exhaust with the factory correct transverse muffler.Take a look in the engine bay and make sure you listen to the video at the end of the listing to hear her start up and running. 
The undercarriage of this Mustang also looks fantastic. Floorpans and torque boxes are rust free and were treated with Red oxide primer and light undercoating in a few spots. You will see some original style chalk markings in various spots. Front end suspension was all completely gone through. Inside of the trunk also looks like it did on the showroom floor.  Nothing left to do other then turn the key and enjoy. Here are some shots underneath and inside the trunk. 
We apologize but due to technical problems, we are unable to post the rest of this AD at this time.  If you call the number below, we can answer any questions you may have.  You can also click the link below to an ad that has all the information.  Thank you